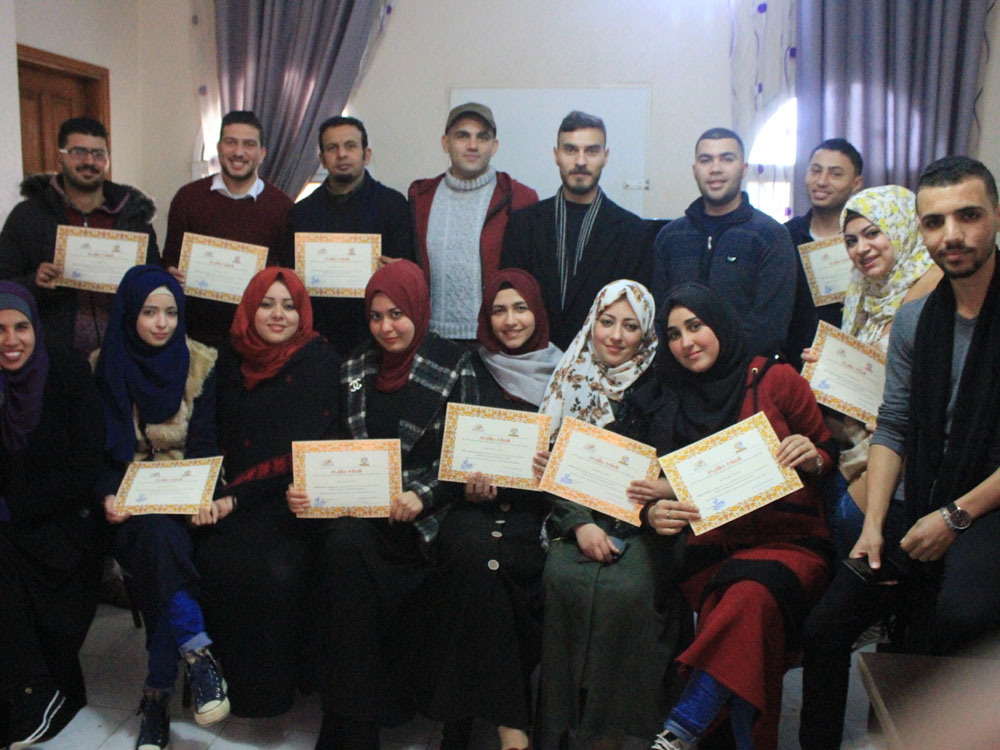 The Youth Political Club at Pal-Think for Strategic Studies concluded its first initiative: "My right to vote, funded by the National Endowment for Democracy (NED). Which included a 15-hour training course in The Art of Debate, Held in Khan Younis from February 13th to February 20th 2020, the course hosted 20 male and female trainees with the cooperation of Panorama for Training and Integrated Services.
The initiative aimed to develop personal skills in the methods of civilized dialogue and debate, using the Palestinian elections as the topic of discussion to encourage the rejection of political intolerance, further promote a culture of nonviolence, and further empowering youth towards a future where they are a main factor in positive change.
The initiative was opened by the project coordinator on behalf of Pal-Think, Aziz Abuzayed, who welcomed the participants, partner institutions, and all their staff. He emphasized Pal-Think's leading role in the empowerment of youth, noting its distinctive activities and projects of new titles, as well as Pal-Think's interest in a future of active political participation of youth.
Ms. Heba Alabadla, the course trainer, and Abuzayed later explained the importance of fostering a culture of dialogue among young people, pointing out that the skill of debating is one of the most important factors of a person's personality. Alabadla clarified to her trainees, using topic of the upcoming Palestinian elections, the objectives of a debate, its different types, and the various methods used to justify a view using valid evidence and logical argument.
As the week-long project came to an end, Mr. Nasser Al-Sumairi, director of the Central Elections Committee in Khan Yunis joined in to talk and educate the participants about Palestinian law, elections and its many regulations that constitute the conditions of candidacy.
Journalism specialist Ibrahim Abu Raida, was also hosted to help students produce video essays to effectively express their views on matters of the elections.
The initiative was concluded by granting certificates of participation to the trainees for their video essays that focused primarily on the elections and their impact on society in correspondence with what they learned during the training course.
This initiative, implemented by Pal-Think's Youth Political Club and funded by the National Endowment for Democracy (NED), is among a total 4 initiatives of the project, and aims to further the vision of a Palestinian generation of youth capable of leading the Palestinian community towards prosperity and national reconciliation.