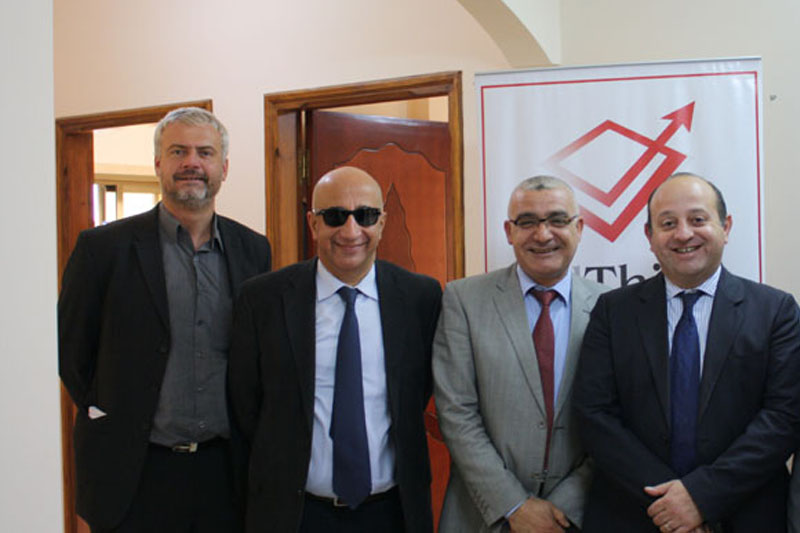 Last Wednesday, 28th November 2012, Pal-Think for Strategic Studies hosted a meeting at its premises in Gaza between high-level delegation from the EU headed by Mr. John Rutter the EU representative to the Palestinian territories and other colloquies. And a group of Palestinians activists and intellectuals .  Mr. Rutter  was accompanied by Mr. Sergio Piccolo head of EU operations, Ms. Semi De Wing from the EU representative office and Mr. Ayman Ftaiha director of EU Office in Gaza.
The visit of the EU delegates to the Gaza Strip came after the end of the recent Israeli escalation on the Gaza Strip, which lasted eight days causing great losses between civilians and destroying hundreds of buildings and infrastructure. Mr. Rutter  re-affirmed the EU's commitment to continue its support for the Palestinian people, and to help the Gaza Strip in the reconstruction of the damage caused by the recent Israeli war of destruction of infrastructure.
The EU delegate met with a group  of Palestinian  intellectuals . the meeting aimed to examine way and ideas on how the  EU can support the people in the Gaza Strip .
At the end of the meeting, Mr. Omer Sha'ban director of Pal-Think for Strategic Studies appreciated very much the visit of the EU which  enhance the depth and durability of European-Palestinian relationships, and praising the crucial role played by the Europe Union in support the Palestinian territories. He criticized the unbalanced position of the European Union which was released by Ms. Catherine Ashton high representative of the foreign policy in the European Union from the Israeli escalation against the Gaza Strip.