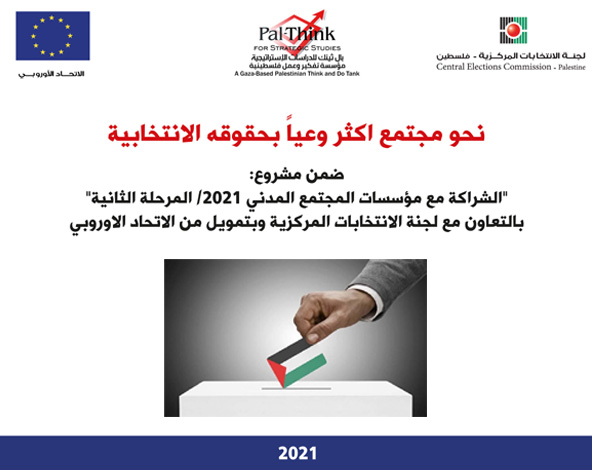 Pal-Think has signed a partnership agreement with the Central Election Commission to implement a project entitled, "Towards a Society More Aware of its Electoral Rights," implemented in cooperation with Civil Society Institutions and funded by the European Union.
Mr. Jamil Al Khalidi represented the Regional Director of the Central Election Commission in Gaza at the signing ceremony while Mr. Omar Shaban represented Pal-Think as its director.
The project aims to enhance society members' awareness of electoral issues and encourage them to participate in any future electoral process. A series of activities will be carried out within the project. For instance, a series of 35 awareness-raising sessions will be held to draw the attention of the target group to the Palestinian electoral system, the stages of the electoral process, the procedures for each phase, the monitoring mechanism for the electoral process, the conditions for candidacy and voting, how the electoral process can be fair, the mechanism for encouraging the participation of the community in the election, the importance of political participation, and highlighting the principles of democracy and introducing the Central Election Commission. The project's activities will also include designing and printing brochures on the Palestinian electoral system, implementing 8 podcast episodes, designing awareness videos, mural paintings, and launching a lobbying and advocacy campaign aiming at illustrating the importance of accelerating free and fair elections and the positive impact that would have on all aspects of life.
Mr. Omar Shaban stressed the importance of this partnership which will contribute to raising society's awareness on electoral issues, especially in marginalized areas. He also thanked the Central Election Commission for this partnership which has to be developed further for the benefit of the community.
Mr. Jamil Al Khalidi mentioned that signing this agreement is part of a series of projects that will be implemented in cooperation with civil society institutions to increase the participation of citizens in the elections. He also stressed the importance of awareness-raising and education on electoral issues among all social groups.