Announcement
RTDs entitled "International Experiences in Non-Violence and Civil Peace"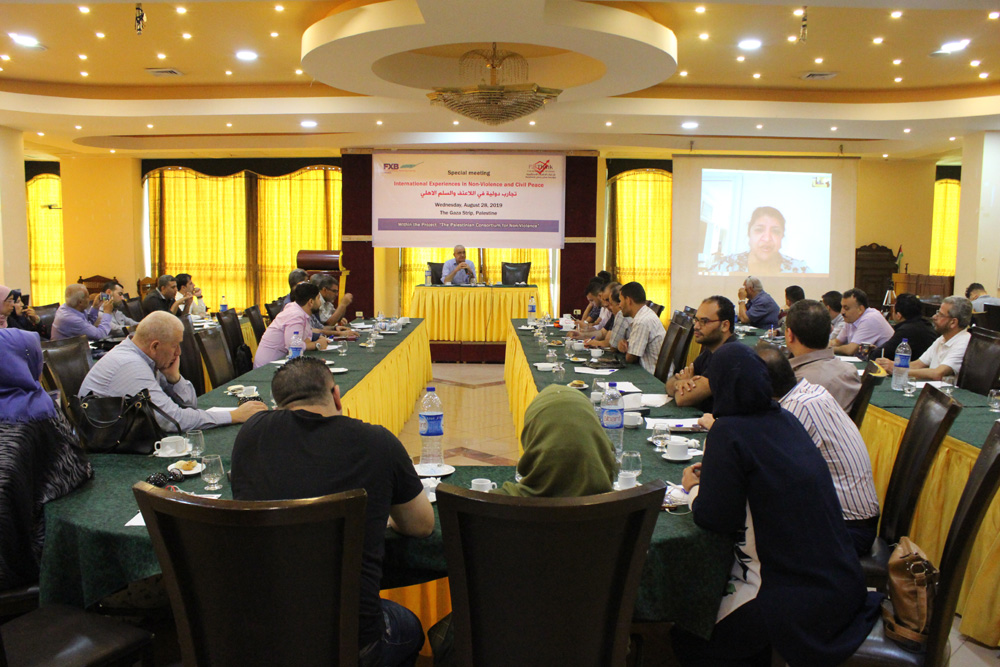 Wednesday, 28 August, 2019
Gaza City— Pal-Think and FXB France organized roundtable discussions entitled "International Experiences in Non-Violence and Civil Peace", which comes within the project "The Palestinian Consortium for Non-Violence". The event targeted an audience of 85 members (60 males: 25 females) of civil society leaders and intellectuals including journalists, students, and political analysts. 
Mr. Omar Shaban, Director of Pal-Think mediated the session, Pal-Think is playing a vital role in addressing issues of non-violence and civil peace within the Palestinian society, in addition to actions to spread the culture of dialogue, conflict resolution, social and national reconciliation. It is worth referring to Pal-Think's role in the formulation of the Swiss document as well as its effective role in facilitating collaboration among more than 80 CBOs in Gaza and WB.
This event comes as part of the activity aiming at producing three working policy papers that are focusing on non-violence and civil peace, written by international researchers who documented lessons learned and best practices from the experience of their countries as they went through violence and conflict, targeted countries were South Africa, Croatia, and Columbia. Such activity will help in reflecting on the experiences of other countries and provide a practical role model for Palestine.
First guest speaker was Mr. Goran Božičević, who is a peace activist and educator from Croatia; Mr. Božičević has been working on non-violence and civil peacebuilding in Croatian civil society since 1993. Mr. Božičević discussed the Croatian experience in facing division and conflict and reflected on his efforts to support reconciliation and civil peace for more than 20 years now.
Mr. Božičević emphasized that the political elite in Croatia was not interested in reconciliation, that's for financial and authority-keeping reasons. However, this is a win-lose situation, where citizens pay the heavy price of continued conflict and violence. 
Mr. Božičević noted that nonviolence is a way of life, it is about daily life, though, Mr. Božičević believe it is not reasonable to claim that the culture of nonviolence is the antidote to all obstacles and problems that the Palestinian society face. Mr. Božičević only shares his own journey in peacebuilding in his country. He says: "When people ask me, what have I achieved during those years working on peacebuilding?", I say: if I have achieved only one thing throughout the course of my non-violence-working experience, it is that I met wonderful people from all over the world and learned great things from them.
Second guest speaker, Ms. Fazela Mahomed from South Africa, she is a community activist and former South African anti-apartheid fighter; she has also served as the Registrar of Members Interests at Parliament RSA for 19 years. She was the lead official in parliamentary and legislative ethics and currently appointed as Integrity Commissioner to the North West Provincial Legislature.
Ms. Mahomed kicked off her speech by quoting the former President of South Africa, Nelson Mandela, who once said: "We know too well that our freedom is incomplete without the freedom of the Palestinians". Speaking of violence and conflict, South Africa suffered from colonialism when white people came believing it was an empty land. 
At that time, the British ensured that authority rests in the hands of the white minority and that white people are well-off and get the most out of the economy. On the other hand, the indigenous people of the Black race were persecuted and oppressed. For instance, 80% of South African lands were handed to white people, whilst only 20% -with only 7% of that portion being fertile – given to the indigenous people of the land. 
For the South African case, the solution was that both sides in the dispute agreed early on that they would forge their own future as South Africans. To ensure that all South Africans had a place in the new South Africa.