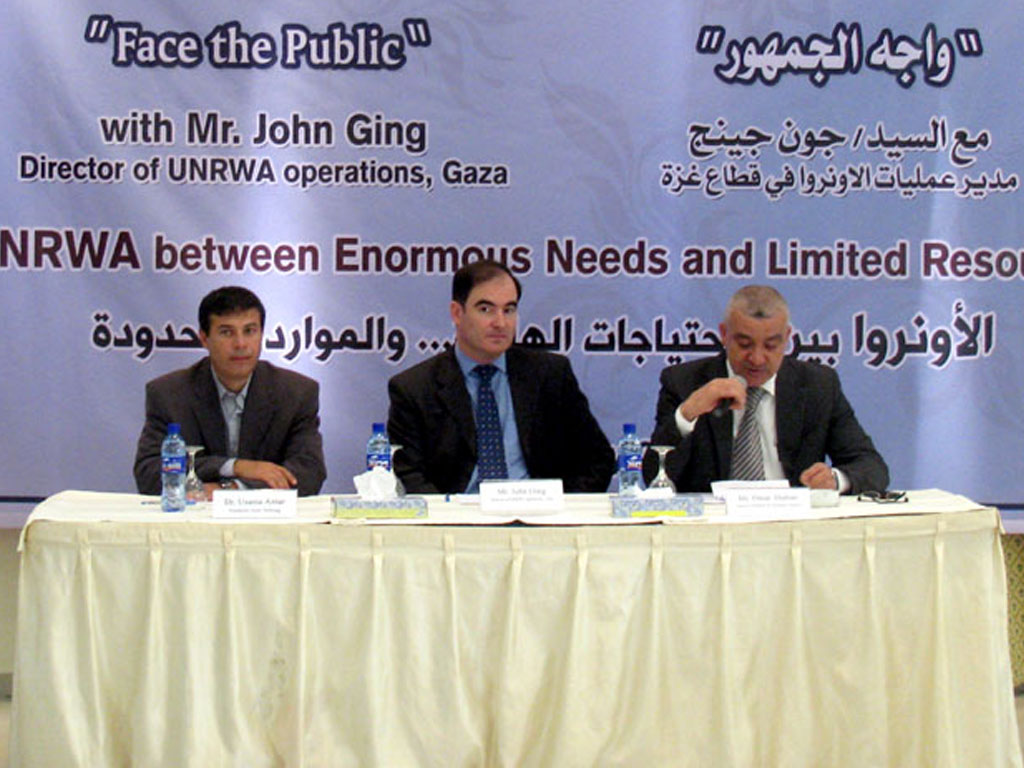 Gaza- Monday, May 17, 2010 — Mr. John Ging the director of UNRWA operations in Gaza Strip urged the international community to increase its support to UNRWA which is facing a critical financial crisis.
Mr. Ging's statement came in the first session of "Face the Public Program" that was launched by PalThink for Strategic Studies in cooperation with Friedrich Ebert Stiftung (FES), as a part of the project "Towards a Democratic, Institutionalized, and Diversified Political System in Palestine"
The session was attended by civil society activists, academics, and private sector representatives. It aimed at creating a discussion on the situation of UNRWA between the enormous needs and limited resources.
Omar Shaban, head of PalThink thanked Mr. Ging for his participation. Shaban expressed his highly appreciation on for the role of UNRWA since its establishment in 1949 and to its role in serving the Palestinian people. He also expressed his higlly appreciation for the partnership with FES and its director in East-Jerusalem.
Shaban said that this session is a first step towards creating an effective communication among decision makers, intellectuals, and civil society representatives to highlight issues that matter the Palestinian society and the international community.
Dr. Usama Antar, Program Manager of FES expressed his respect and appreciation toward such projects and programs that aim to bridge the gap between the Palestinian people and the decision makers in Palestine.
Mr. John Ging presented the role of UNRWA in fostering sectors such as education, health, social services, and infrastructures.
"Education is on the top of UNRWA's priorities and we are committed to make positive, dynamic, and creative Palestinian students" Mr. Ging said.
Regarding the on going financial crisis that face the UNRWA, Mr. Ging explained the current deficit in UNRWA's budget. He called the Arab league to commit to its requirements concerning supporting the UNRWA. He stated that now adays, Arab countries contributed only one percent of funds for UNRWA's regular operating budget. Even if the Arab states reached the target set by the Arab League, it would only account for 7.8 percent of UNRWA's total operating budget.
Mr. Ging asked the Palestinian civil society to raise the awareness for the necessity of an urgent Arab support to overcome the ongoing crisis.
In respect to the Palestinian internal affairs, Mr. Ging stated that UNRWA is a servant for the Palestinian refugees and it will not get in the middle of any political division. He warned that several parties want the UNRWA to close, he said that UNRWA represents an identity for case of refugees, so the only side who can define when will UNRWA close are Palestinians themselves.
At the end of the session, Mr. Ging confirmed that UNRWA is a servant for the Palestinian people and it will do its best despite of the enormous challenges of siege, occupation, and financial deficit. The discussants expressed their highly appreciation for Mr. Ging's presentation.