Policy Papers and Publications
Policy Papers within the Project: "Enhancing Cooperation among Palestinian CBOs to Strengthen a Future Palestinian State"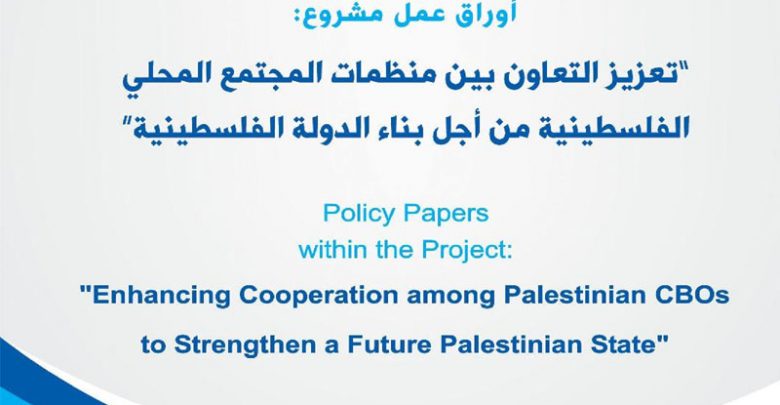 The policy papers of this book are part of the activities of the project "Enhancing Cooperation among Palestinian CBOs to strengthen a future Palestinian state", The project aims at enhancing the collaboration and interaction between civil society organizations at the national level to provide scientific visions and policy proposals that support the building of the Palestinian state. PalThink conducted workshops to present and discuss these visions within policy papers dealing with various issues of interest of the Palestinian community. 34 civil society organizations in the northern and southern governorates of Palestine, have participated in the implementation of various initiatives within the project on several issues, to produce these papers as a major output of initiatives.
The participating organizations have targeted various groups of society in several previous discussion sessions in which these groups from all the northern and southern Palestinian governorates were gathered simultaneously through the Skype to discuss issues of interest to all parties and to come out with one Palestinian national voice.
These papers have been prepared based on the results of the discussion and dialogue that took place between the teams of each two partner organizations in both sides of the country. Therefore, these papers are not academic research papers and not strictly based on scientific research tools; that the goal of these papers is to document the efforts of the partner organizations in the discussion and dialogue and to monitor the
recommendations that resulted.
Finally, the papers are arranged according to the topics, in which they are divided into six themes, each  ontaining papers dealing with the issues within these theme.
Download from here:
http://palthink.org/en/wp-content/uploads/2020/04/EN-Book.pdf