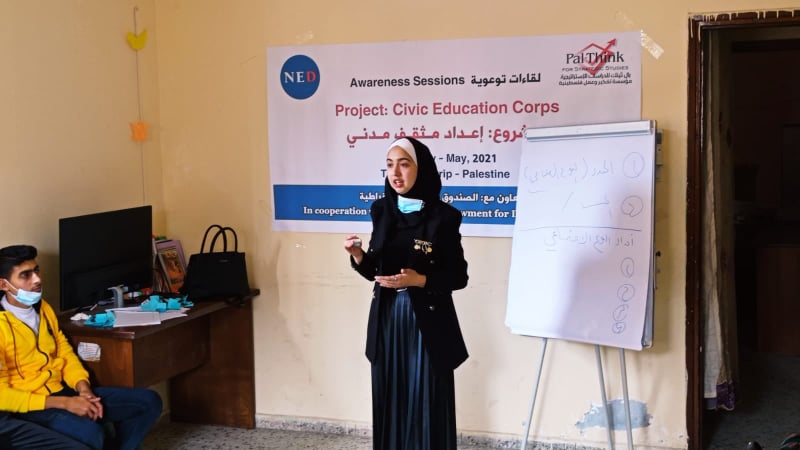 On Monday, 26 April 2021, at the Youth and Environment Association in the city of Deir Al-Balah, the Civic Education Authority conducted an awareness-raising workshop on "Gender-based violence and its impact on Palestinian society."  This comes as a part of the project "Preparing a Civic Intellectual," which is being implemented by Pal-Think for Strategic Studies which is funded by the National Endowment for Democracy (NED).
The meeting was moderated by a member of the Civic Education Board, Ms Aya Ashour, who spoke during the meeting about the definition of gender-based violence and the analysis of its causes in Palestinian society and its forms. She also spoke about the types of gender-based violence and the mechanisms for dealing with it.
The meeting also emphasized that the responsibility for combating violence rests with all, whether the State, which must declare laws to ensure protection for women who are victims of violence and to punish perpetrators of violence. It is also the responsibility of institutions to carry out activities that promote community awareness of the dangers of gender-based violence, as well as the responsibility of citizens to confront violence and to report it to the competent authorities at the moment of its occurrence.
There was a series of interventions, questions and queries answered by the moderator.