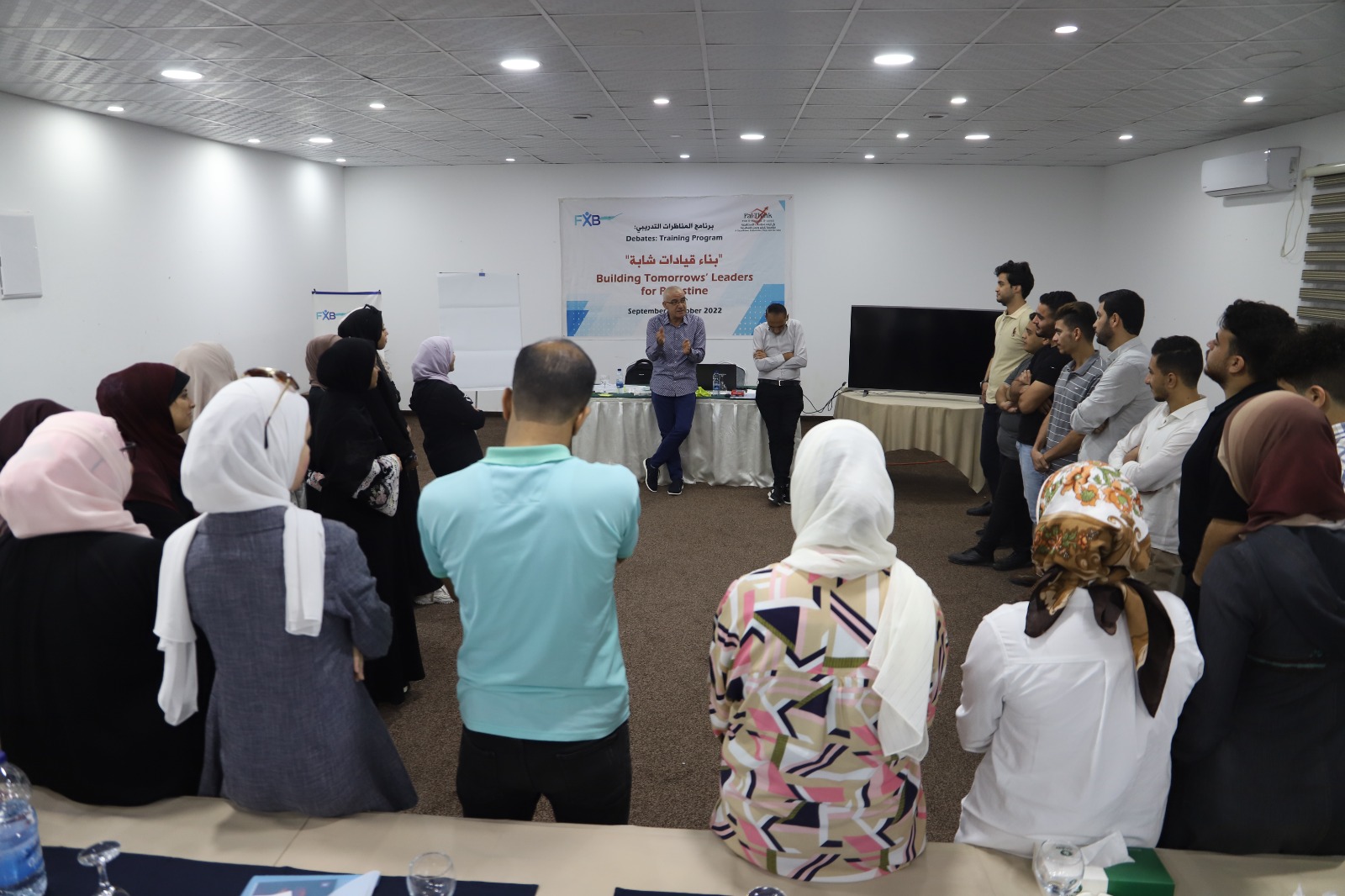 In continuation of its efforts to promote dialogue and rational discourse among young people, PalThink for Strategic Studies and FXB have launched the second training course of the "Building Tomorrow's Leaders for Palestine" training debate program.
The course was opened by PalThink's Director, Omar Shaaban, who said that the program is one of several others implemented by PalThink, that aim to build a new generation of young leaders armed with critical thinking skills and openness to others who have different opinions.
He added, "The goal of this program is to build strong personalities who have the ability to express themselves and the skills and knowledge to separate the chaff from the grain."
For his part, trainer Talal Abu Rukba said that "Everyone has their differences due to their diverse backgrounds. What we seek through this program is to promote acceptance of others and dialogue and discussion language."
"We, in the Gaza Strip, lack real dialogue based on argument and persuasion at many political, social, and cultural levels; therefore, we need to indoctrinate this concept, as the first step towards tolerance and civil peace," he added.
"Such projects, specifically those related to debate and preparing young leaders for debate, are very important to enable them to identify important issues and to provide them with teamwork, work under pressure, research and dialogue skills," Abu Rukba said.
On the first day of the training, the trainees were introduced to the themes and scientific foundations of debates. They also watched several videos containing scientific debates, and they carried out group exercises in an atmosphere of positivity and teamwork.
Shahd Safi, 21, an English Department student, said: "The program did not disappoint me, as we learned very important things about debates, their foundations, and their ethics, on top of which is respect for the opinions of others and how to manage debates and work within the team. I am very excited; when I go home, I want to research more about all the things that were discussed today."
For his part, Abd al-Rahman Rabi'I, 24, a Faculty of Law graduate, said that he learned about the program through PalThink accounts on social media, which he constantly follows. He said he wanted to participate in the program so that he could learn "the art of debates, highlighting argument and evidence, and the art of persuasion."
"I expect it to be a wonderful experience. I love new experiences that add new skills, experiences, and knowledge to me," he added.
PalThink has selected 55 out of nearly 640 applicants for the program, based on the announced competency standards. The program aims to enhance the participants' debating, life, and creative thinking skills to enable them to participate in decision-making.
Before the end of the program, the trainees will organize and participate in 20 debates at several universities and local institutions which would enhance their communication and coordination skills.