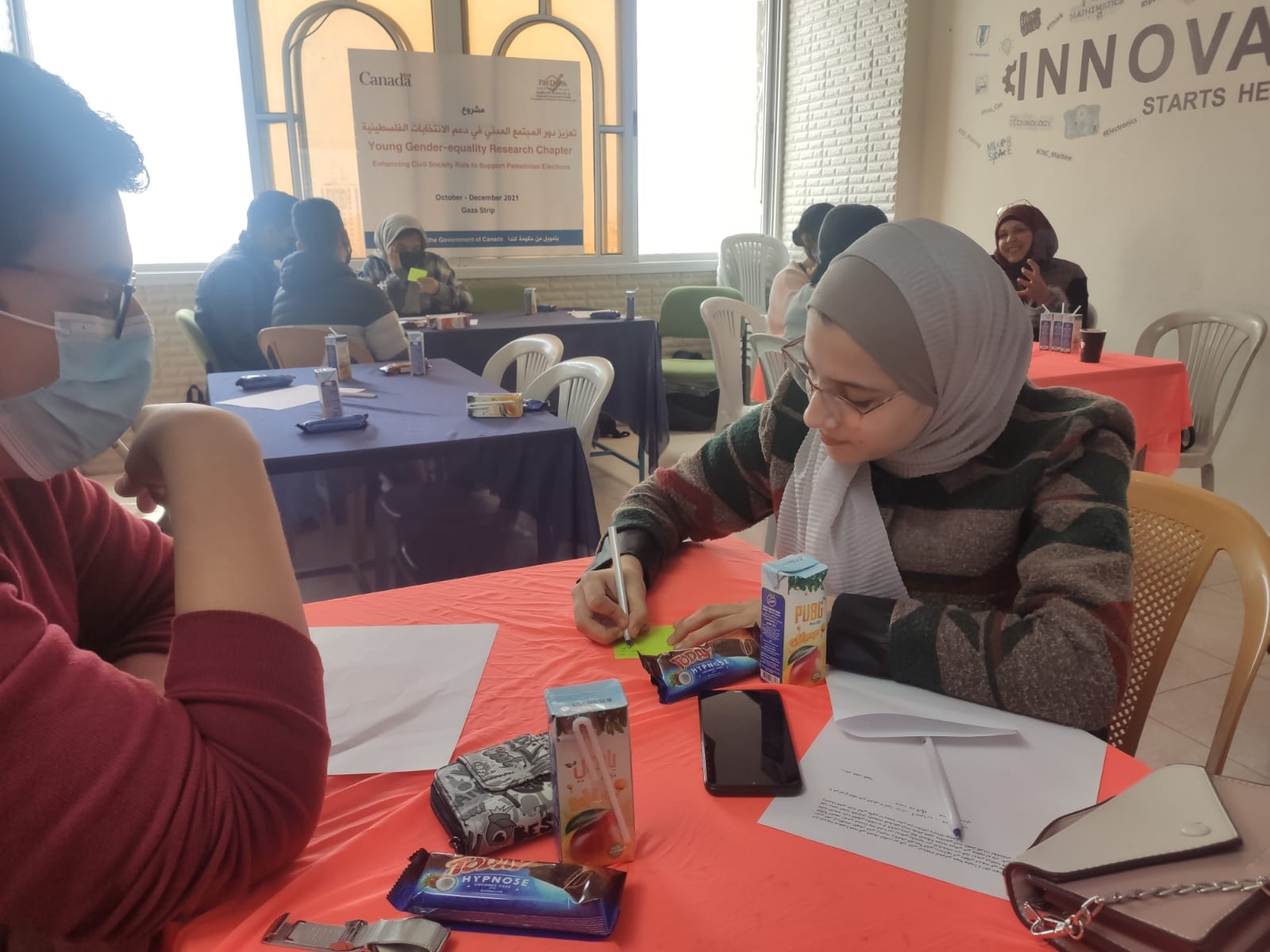 Pal-Think continues implementing awareness-raising sessions on democracy and human rights issues targeting society's different groups specially youth. This comes as part of the project "Empowering Civil Society Role to Achieve Palestinian Elections" implemented by Pal-Think funded by the Government of Canada.
These sessions were in collaboration with several civil society institutions in all the provinces of the Gaza Strip. One of these sessions was held at Spark Innovation and Creativity entitled": combating gender-based violence" targeting a group of university graduates. It was about the concept and roles of gender, gender-based violence and differences from violence against women. It also discussed the concepts of violence and its impact on the individual and society and how to overcome it, as well as the places which should be gone to when exposed to violence.
The other session entitled "Youth Participation in Elections " was in collaboration with Al Jenoub Society for Women's Health. It included talking about the Palestinian elections, election and voting mechanisms, conditions for candidacy of presidential, legislative council and local council elections. Through the session, the youth participants expressed their enthusiasm for elections as well as participating on it which they had hoped would take place in May 2021.
Another session entitled: "The Impact and Role of Youth in Decision-Making" was at the Creative Women's Association. It discussed the concepts of decision-making, the importance of youth in decision-making positions, the main challenges facing youth to access decision-making positions and the reasons of the absent of youth from this role.
The session entitled: "Unemployment and economic empowerment of women" was in collaboration with the United Cultural and Social Society. It addressed the problem of unemployment and the causes of its high proportions in Palestine, particularly with regard to women and the views of society on the empowerment of women. It also discussed the principles and aspects of women's empowerment n the economic aspect in particular and the purpose of women's empowerment, its objectives and components.
Another awareness-raising session was held in collaboration with the South Women Media Forum entitled: "Gender Equality". It discussed gender awareness, gender roles, the division of these roles, the purpose of gender analysis, and the positive impact of gender justice in all aspects.
It's worth noting that these sessions were implemented by a group of youth graduates of the training program: "Promoting youth political participation and disseminating the concepts of democracy". That was carried out by Pal Think to train youth to be activists who are able to transmit information and contribute in raising awareness on democracy and human rights issues.
The designations employed and the representation of material in these meetings do not imply the expression of any opinion whatsoever on the part of the Government of Canada."