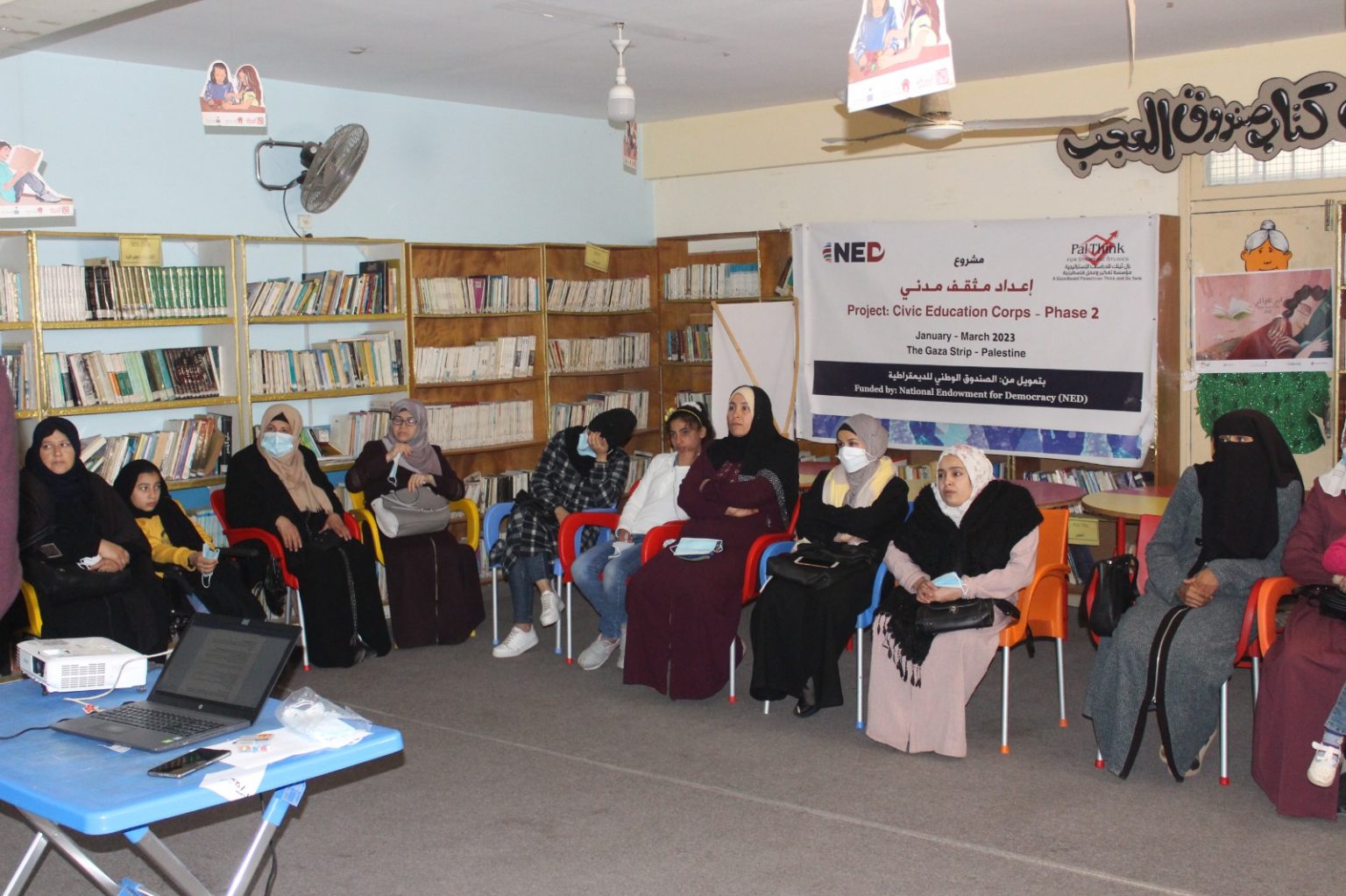 PalThink for Strategic Studies has started implementing community awareness sessions focusing on consolidating the principles of democracy and human rights in Palestinian society, within the Civic Education Corps project implemented in partnership with National Endowment for Democracy (NED) for the third year in a row.
PalThink has organized the first session in cooperation with the Women Program Center – Rafah. Entitled "The Rights of Persons with Disabilities and the Impact of their Exclusion on the Palestinian Society", the session was attended by young people and persons with disabilities of both sexes and their families.
The project aims at promoting democratic values and human rights among young people in the Gaza Strip and building young leaders who are able to spread these values in their community. It also aims at enabling them to participate in decision-making, in cooperation and coordination with civil society institutions.
The session was opened by Civic Education Corps member Mohammed Al Houbi, who welcomed the guests and spoke about the importance of persons with disabilities' inclusion and their rights and needs to participate in the various activities of public life equally with others.
He stated that the Universal Declaration of Human Rights has affirmed the principle of equality and non-discrimination, as well as the International Covenant on Civil and Political Rights and the International Covenant on Social, Economic and Cultural Rights.
These documents affirmed a number of rights for persons with disabilities, including the right to work, the right to social security, the right to political participation, and the right to form associations and assemblies to advocate their rights without restriction, he said.
Al-Houbi clarified the evolution of the concept of disability historically and focused on the most important definitions and concepts related to the concept of disability.
In turn, Civic Education Corps member Rawan Al-Zamili explained who people with disabilities are, how disability exists and types of disabilities in society, and how to differentiate between them in their proper sense.
The two trainers concluded the session by stressing and highlighting the most prominent national and international legal foundations defending and advocating the rights of persons with disabilities and the most prominent shortcomings in national laws relating to the rights of persons with disabilities.
Civic Education Corps project 2022-2023 includes a set of activities, including an intensive training program for new members and awareness sessions on topics related to democracy and human rights. The project also includes preparing research papers on issues related to democracy and human rights and then presenting them in radio episodes and discussion sessions that gather civil society representatives and decision-makers.
Civic Education Corps members will participate in the implementation of all these activities after they had been in an intensive training program at beginning of the project.