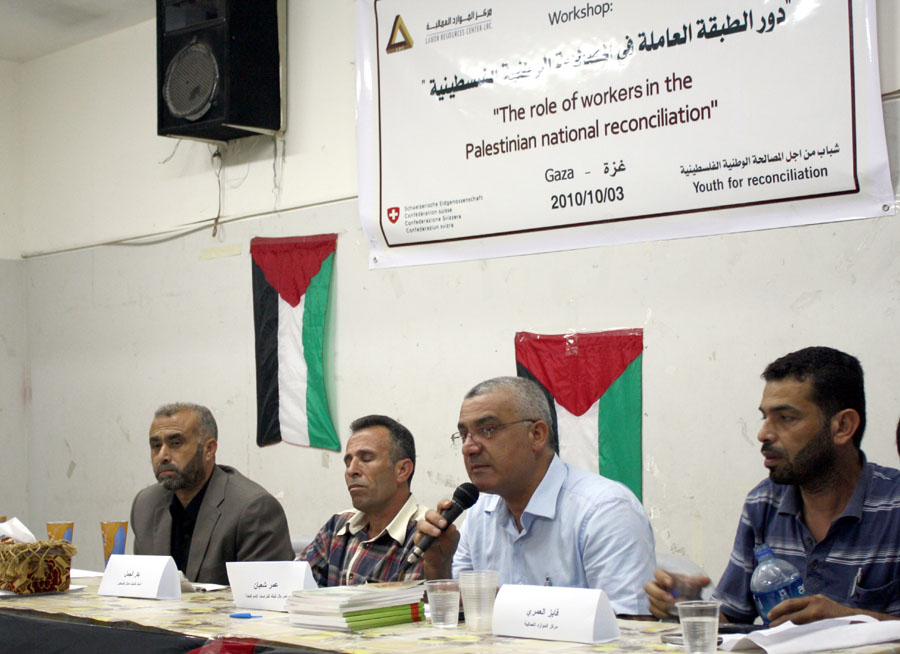 Gaza-Sunday,3 oct,2010-Following its utmost efforts to enhance the Palestinian reconciliation and enrich the Palestinian constructive dialogue and link it with the policymakers, Pal Think for Strategic Studies organized a workshop in cooperation with Labor Resources Center entitled " The role of the working class in the Palestinian national reconciliation", Sunday evening.
Omar Shaban, the head of Pal Think for strategic studies, appreciated the role of the working class in developing the Palestinian society denoting at their significant  role in pushing all the parties towards achieving the national reconciliation. He also reviewed expertise of some nations which experienced an internal violence but succeeded in achieving the reconciliation under the pressure of the society.
Concluding his talk, Shaban said that the civil society and Pal Think for strategic studies have offered a pamphlet deals with the Palestinian position after the reconciliation  and offers new vision to form and deal with the security organs assuring that the reconciliation doesn't mean replacing a political party by another, but it means having a serious equitable participation includes all the powers and sectors of the Palestinian society.
Fayez Al Omary, the chairman of the board of Labor Resources Center, beckoned the despondency which the Palestinian society are suffering from , particularly, the labor-ers who lost their rights due to the political division. He also shed the light on the working class' great efforts which paved the way for reconciliation asking the legislative council to resume its duties to pass new laws for laborers which protect their rights, and create new action plans to enhance the laborers sector.
Moreover, Baker Al Jamal, the head of the Education Services Union, highlighted the disastrous effects of the division on the Palestinian society in general and the laborers in particular. He added that laborers sector is the most affected sector by the political division and the internal violence pointing to the rate of unemployment and poverty which are increasing , and the outbreak of the diseases and social problems among them. He also talked about the mental disorder which the youth are suffering from and the gloomy future they are waiting. Furthermore, he mentioned that PGFTU has been working on passing the social insurance law which guarantees the laborers' rights for the PA and the government don't have any dynamic plans for laborers.
At the end , Abed Al Azeez  Al Dahnon, the head of Biet Lahya municipality, pointed out the real plights of the Palestinians for sixty years which are embodied in evacuating, displacing, killing and demolishing by the occupation. He said that the real conflict between Hamas and Fateh lies in their different political agendas for Hamas chose the option of resistance while the PA chose the option of settlement. He also asserted the worthy role of the parties besides the social and political forces over the decades in struggling to obtain freedom and independency.