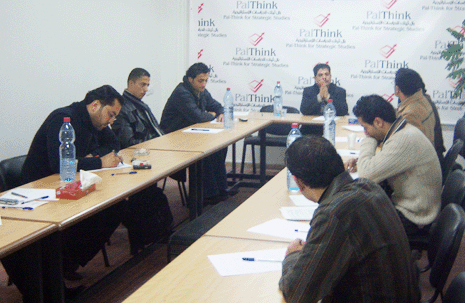 In following up to its efforts to enhance the community role in the reconciliation, Pal Think for Strategic Studies has organized a seminar to discuss the proposed initiatives for reaching national Unity as seen by a selected group of educated young men and women, who play a major role in society. The audience mainly belonged to Student Councils, Youth Organizations, and active youth of the society as well as journalists.  At the beginning of the seminar, there was a lot of anger, dissatisfaction and complaints about the current difficult situation and the continuous Israeli assaults, and the increasing numbers of martyrs and wounded.  The discussion was so sharp that everyone in the group has noticed it.   The participants have also noted the role Palestinian media stations are playing and that the present differences will not be easily erased from the people's history or memory. Also, the absence of a wise leadership by the disputing factions or the other ones which usually mediate to solve the internal situation, is adding to the problem.
At the end of the seminar, the participants agreed on a number of points including:-
Working to establish a youth Lobby which can influence the decision makers.- Working to l encourages trust between the two sides.- How to transfer what goes on in the discussion workshops to the average citizen in order to change the way they think.- The importance of promoting national reconciliation from the base to the top through advertisements and youth campaigns.- Establishing committees of tribal chiefs which can exert some pressure on decision makers.- The use of peaceful civil disobedience  Reactivating the role of the Palestinian law.