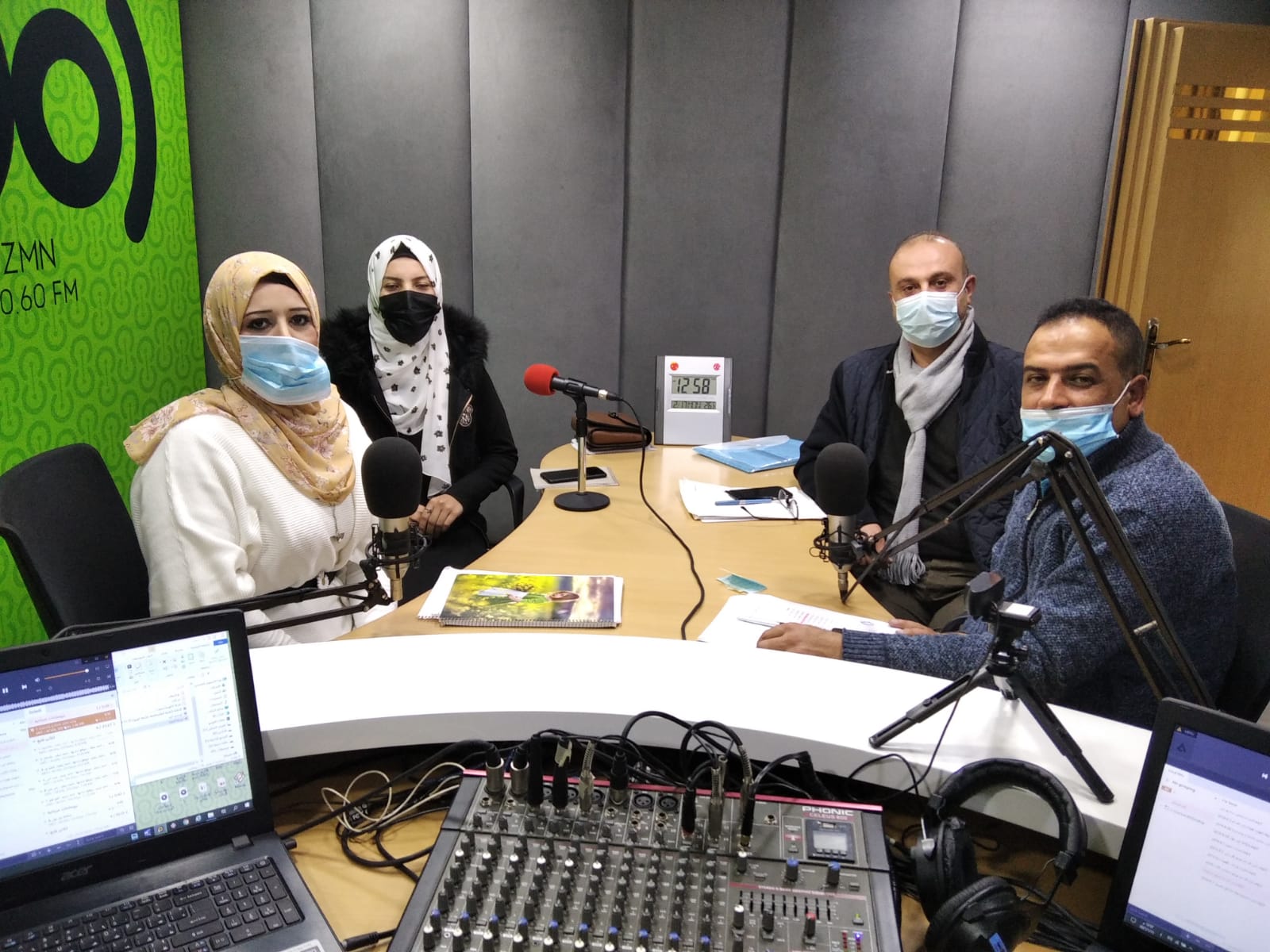 Participants of "Young Gender- Equality Research Chapter", funded by government of Canada, continue in presenting their research papers through the youth creativity radio program on Zaman radio. In the sixth episode, Mr Saddam al-Ghandour and Ms Mariam Abu Amra discussed a paper entitled Integrating and Empowering Disabled Women into Palestinian Society.
In his intervention, the director of the Peace Club for Persons with Disability, Ms Mohamed Al-Arabi said that the problem of women with disabilities is an old and modern problem. Then he added that they are trying for years to solve their problem because women are the most marginalized segment in Palestinian society.
Al- Arabi stressed that women have may problems, such as meeting government buildings, sometimes denying education because of the family, and some are deprived of marriage and others are subjected to domestic violence.
He pointed out that they were working to break women's isolation through sports or psychological support programs. Then he added that they also help some of them complete their university education or assist them in vocational education.
He also stressed that the availability of funding opens up small-scale projects, with 120 special needs projects implemented since 2017 in partnership with partner institutions.
Ms Mohammad further added that there is only an application for the health and education aspects of Law No. 4 of 99 concerning the disabled, and there is no application for the work side because there is no mandatory factory or commercial establishment for hiring the disabled.
Besides, he said that the law is unfortunately formal although Palestine signed the International Convention for the Disabled in 2014, Palestinian law has not been adapted.
He also stressed that the Palestinian internal conflict had a major impact on the non-application of the law on persons with disabilities in the Gaza Strip.
The researcher, Ms Mariam Abu Amra, addressed the importance of integrating and empowering women with disabilities into economic life, and the benefit that they will personally gain from improving their standard of living and increasing their participation in the labour market, while only 4% of women are employed.
She also explained that those with disabilities suffer from marginalization and violation of their social and economic rights, with only 4% of the more than 115,634 women with disabilities in Palestine. Then she added that they also suffer from the lack of incubators to take care of their business and provide support or training to bring them into working life.
After that, she stressed that many of their workers are also physically exploited and denied their salaries and allowances from the Ministry of Social Development, and they cannot make any commercial decision or engage in economic activity because they do not own money because of parental control.
Abu Amra referred to the Palestinian labour law, stating that employers should occupy 5% of their employees with disabilities.
On his part, the researcher Saddam Al-Ghandour said that the paper offered some interventions that could improve the incomes of those who have disabilities to the labour market, which are: Vocational training such as sewing, embroidery, handicrafts, food industries, printing, graphics and cleaning industry. He also stressed that the use of technology as provided for by the United Nations to enable this category. Also, raising awareness of economic rights because only about 21.3% have knowledge of international conventions on the rights of persons with disabilities.
He also stated that one of the findings of the economic return to the empowerment of women with disabilities was: Job creation and increased income, which contributed to an increase in the gross domestic product (GDP). The World Bank estimates that global GDP losses due to disability exclusion range from $1.71 trillion to $2.23 trillion annually. Also, poverty reduction within Palestinian society.
Al-Ghandour recommended that the articles in international treaties and national laws that protect persons with disabilities should be enforced and that their deficiencies be addressed, such as increasing employment to achieve gender equality and equal opportunities in employment.
Besides, it is important to increase government allocations to programs that empower them, provide concessional loans to start their own businesses, and encourage employers to hire them by offering incentives such as exemptions from certain duties and taxes. In addition, working with municipalities and owners of enterprises to create a suitable environment for this group.
 Finally, increase awareness among women with disabilities of their rights to protect them from exploitation, violence in its specific forms and economy, and raise awareness among society and employers of the importance of integrating disabled persons into public life and the labour market through the media institutions in Palestine.
"The designations employed and the representation of material in this program do not imply the expression of any opinion whatsoever on the part of the Government of Canada."