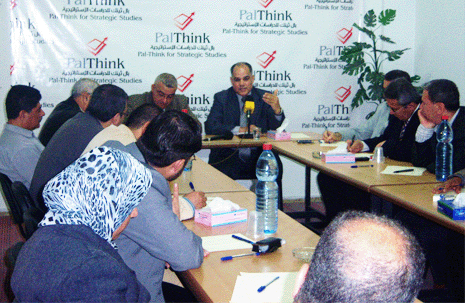 PalThink for Strategic Studies hosted Dr. Ibrahim Abrash, academician and a political scientist, and organized on Monday 31 of March 2008 a think tank session under the title "The repercussions of the failure of the negotiations with Israel on the Palestinian national project and the alternatives available." About 30 intellectuals, community leaders, academicians, and journalist were among the attendants.
Mr. Omar Sha'ban, President of Palthink welcomed the attendants, provided a brief introductory about the fate of the long lasting Palestinian-Israeli dialogue, and then introduced the speaker Dr. Abrash to start his contribution.
Dr Abrash started by raising a series of questions about the "problematic" terminological contents of the title of the discussion. He highlighted the inter-Palestinian current debate about the definitions of "national project", "peace process", and "resistance". While Dr. Abrash claimed that among the Palestinians there has been no one single political project, he distinguished between a failure negotiations and a failure peaceful settlement. He insisted that Palestinians should not quit the choice of seeking peace while they should employ military Resistance as a tool for their strategic sought peace with Israel.
Dr Abrash added that among the drawbacks of the current peace process are lack of political and national references, and the unproductive role of the negotiating teams. He insisted that for 15 years long of Israeli-Palestinians discussions, Palestinians has been identified for their smaller portions of rights, dignity, and land.
Dr. Abrash presented tens of questions that may confront the Palestinians at the moment the current peace process ends up in a total deadlock, where he listed several physical facts including the institutions of Palestinian Authority (PA), that were products of the mutual negotiations. The fate of PA and its components including the legal status of Gaza Strip as well the political status of West Bank could be challenging milestones.
Dr Abrash insisted that after Hamas taking control of Gaza and running its de facto government in the strip, several regional and international factors could impact the Palestinians ability to define their alternative tools, where neither peace nor resistance has become pure Palestinian choices. Therefore, in his argument, the de facto in Gaza could be assigned a specific Palestinian agenda aiming at moving from "division" to "sharing", while Palestinians should refurbish their National consensus of strategic peace deal.
In the subsequent discussion with the attendants, Dr. Abrash insisted that his "division/sharing" based prospective is a temporary recipe and Palestinians should work hard to treat the crisis, revive the reconciliation, and refurbish the national institutions.