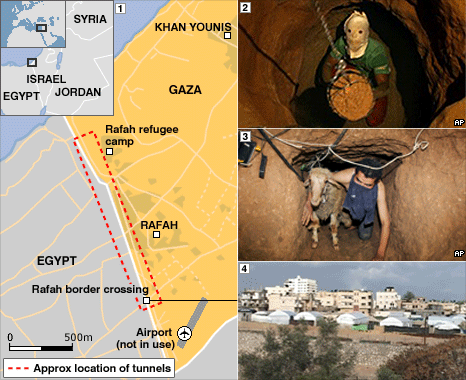 Hamas is receiving a steady revenue licensing illicit tunnels in Gaza's south to smugglers and business people who are importing fuel and other items from Egypt to meet shortages created by Israel's blockade of the Palestinian territory.
Hundreds of tents covering entrances to tunnels – big enough to transport through everything from cows to industrial-size air-conditioners – have mushroomed along Gaza's border with Egypt.
Many tunnels are also rigged with plastic pipes, siphoning Egypt's heavily subsidised fuel into Gaza where drivers have had to resort to running their cars on cooking oil because Israel cut petrol, diesel and gas supplies to a bare minimum.
One fuel station operator, who did not want to be named, said that in the first 19 days of October he imported 313,000 litres (68,860 gallons) of diesel and 161,500 litres of petrol through the tunnels.
"Every day I send my truck to [the border town of] Rafah," he said, adding that he was earning 3.5 shekels (55p) on every litre of Egyptian fuel compared with half a shekel on same amount of Israeli fuel.
Israel imposed the blockade to weaken Hamas's control of Gaza after the Islamist group ousted their more secular rival, Fatah, 15 months ago. While the siege has brought the territory's economy to a halt, it has done little to weaken Hamas, which has cashed in on the tunnels' business.
Smuggling has become a lucrative and entrenched part of the economy. Omar Shaban, a Gaza economist, estimates that smuggling comprises about 90% of market activity in the territory and is worth around $30m (£18m) to $40m a month.
He said: "The tunnels are integrated into the economy. We have a new economic structure now, a new business community."
One owner, whose tunnel lies within 200 metres of an Egyptian watchtower, operates 24-hours a day, importing "everything you can imagine".
Last month, Hamas began charging tunnel owners a 10,000-shekel annual licence fee. Most tunnels are located in Rafah, and its mayor, Issa al-Nashar, said there are now about 400 of them. Other sources, however, estimate the number is closer to 600 – and that the fees comprise 20% of the Rafah municipality's revenue.
Nashar said the tunnel owners make $10,000 a day and that he wanted to charge much more. "But we had a discussion with some of the tunnel owners and we agreed on 10,000 shekels," he said.
Hamas security forces patrol the tunnels, while the municipality has set up a committee to collect the fees. Rafah also requires the owners to pay 1,000 shekels for electricity and is now pressurising them to sign contracts promising to pay up to $40,000 to the families of tunnel workers killed on the job. Forty people have died working in the sandy, unreinforced underground passages so far this year.
In a siege-distorted economy – with an estimated 20% inflation rate, 98% of industry forced to close and unemployment at 45% in the first six months of 2008 – the majority of ordinary Palestinians are yet to benefit.
Abu Wajdi is one of around 6,000 workers who have flocked to Rafah in search of a job. He is paid only 900 shekels a month, but says he is risking his life because he is a "patriot". "We are participating in lifting the siege. We are trying to fill the market to meet the needs of our people," he said.