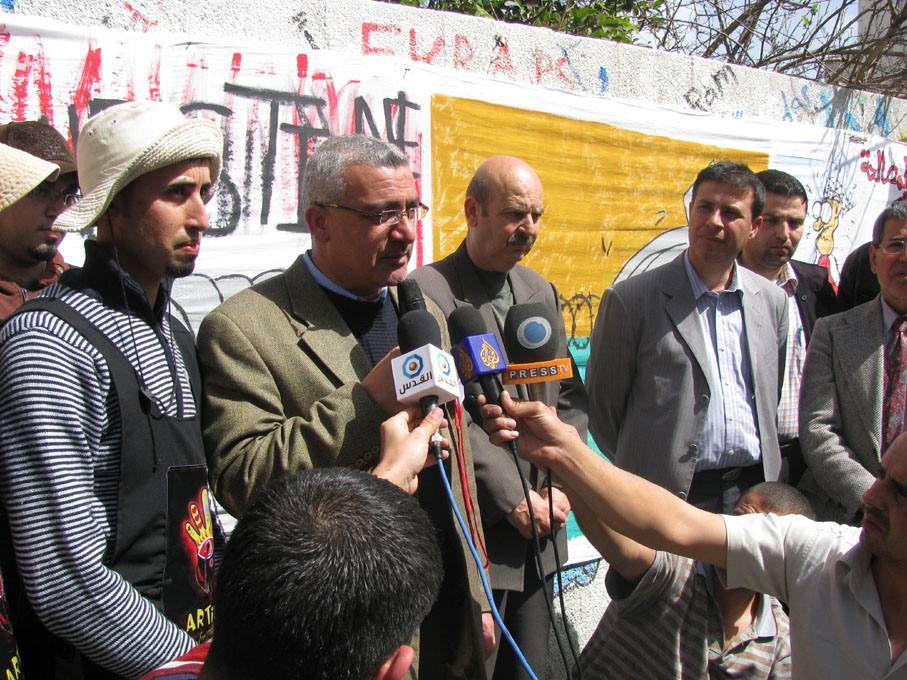 The Youth Forum of PalThink for Strategic Studies organized on Monday a wall painting activity in cooperation with Artists for Freedom youth group. The wall painting entitled "Youth for National Reconciliation" has been carried out in the downtown of Gaza city in one of its main and crowded streets.
The artists started their wall painting activity early in the morning. The wall painting contained cartoon drawings that reflect the wishes of Gaza Strip youth to achieve the national reconciliation as soon as possible. After finishing the wall painting, Omar Shaban, head of PalThink for Strategic Studies inaugurated the wall painting in the presence of civil activists, politicians, and youth groups representatives. A press conference was held after the inauguration; Mr. Shaban gave a short speech about this activity, he said "All we need is to see our parties united, so we can go to the Arab summit without being divided". He appreciated the role of FDFA (The Federal Department for Foreign Affairs) of Switzerland in supporting Palestinian reconciliation through this project and other projects that have been implemented in Palestine.
The coordinator of Artists for Freedom youth group, Muhammed Abu el-Noon has spoken on behalf of his group. He said that this wall painting expresses the feelings of the Palestinian youth towards the existing political division. One of the girls who participated in the wall painting thanked PalThink for its role in enhancing the participation of women in the Palestinian society. "On the occasion of International Women's Day we call in the name of every girl and woman in Palestine for achieving reconciliation" she said.
Numbers of youth activists, politicians, civil society representatives, and thousands of citizens who were walking around the wall painting attended the inauguration beside broad media coverage. One of the students who was attending the activity said " we are so bored of this situation, these efforts must tell the divided parties a clear message: reconciliation is the key for solving every problem that we are suffering from nowadays". This activity emphasizes the importance of the role of youth in supporting national reconciliation and other societal issues through the use of peaceful means within a civil and liberalized environment. The large numbers of attendees reflect the orientation of the Palestinian society toward supporting such peaceful activities and the objectives of them.