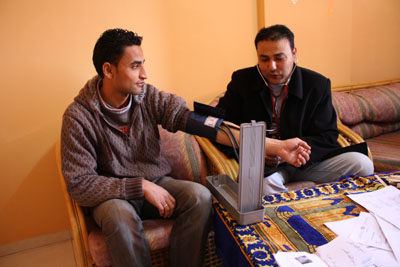 Gaza- Thursday, 7/4/2011
Since 2007, the Palestinian people have been living a painful division which is added to the siege which has been imposed on Gaza since 2006. Along those years of division, the Palestinians confronted very hard situations and they tried to unite their political parties and have a national reconciliation. These efforts are still going on, launched by youth, women, children, politicians and civil society organizations.
On 7/4/2011 the Palestinian working woman society for development launched a "blood donor" campaign as a step to promote and reinforce reconciliation. This is one of the untraditional initiatives and symbolic activities that reject division and call for the Palestinian unity. This activity aims, too, to raise the awareness of the people and keep them in touch with the issue of reconciliation. The campaign comes through a project entitled," Restoring the cooperation amongst community actors towards a reconciled and civilized society" funded by the Swiss government.
The campaign was organized in cooperation with Pal Think for strategic studies, Labor resources center, Al Karmel Cultural and Social Development Association, Al Najd Developmental Forum(NDF), and  Massar Association for Relief and Development.
The Central Blood Bank Society and Cystic Fibrosis Center provided the campaign with medical staffs and necessary equipments for the physical and blood examinations. The examinations included (hepatitis A&B- blood type-AIDS- hemoglobin- blood collection- blood pressure- temperature- pulse-weight).
There were about 95 donors (36 male-59 females) from all walks of life. They wrote down comments and slogans on a wall paper, all of them call for ending the division and giving the priority to the future of the Palestinians and the Palestinians cause.
Following up, the two medical staffs communicated with the donors whose tests showed that they suffer from a specific disease. The medical staffs are going to provide them with the necessary medical tests and treatment.