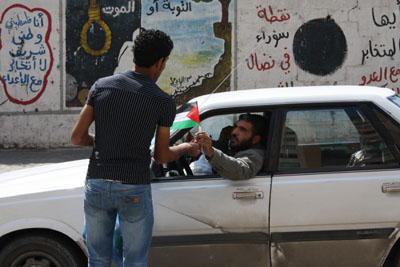 Gaza- Sunday,1/5/2011
To promote the tentative agreement the has been signed by Hamas and Fateh in Cairo recently, labor resources center distributed the Palestinian flags holding a slogan " On the first of May workers want to end the division" among drivers and people in the streets.
This activity is considered unprecedented initiative from the Palestinian workers  that rejects division and calls for the Palestinian unity. It aims to support the Palestinian reconciliation and shed the light on a very important and effective stratum in the society that concern about the reconciliation and has been severely affected by the division which broke out in 2007. The activity comes through a project entitled," Restoring the cooperation amongst community actors towards a reconciled and civilized society" funded by the Swiss government.
The activity was organized in cooperation with Pal Think for strategic studies, the Palestinian working woman society for development, Al Karmel Cultural and Social Development Association, Al Najd Developmental Forum(NDF), Massar Association for Relief and Development and Community Media Center.
The workers distributed dozens of Palestine flags at Alsaraiah main square in Gaza city. The citizens there supported and appreciated the efforts of the Palestinian workers which follows the distinguished achievement of the Palestinian leaders of Fateh and Hamas who signed reconciliation agreement recently in Cairo.
Commenting on the activity, Omar Shaban, director of Pal Think for strategic studies,  appreciated the efforts the Palestinian workers exerted in this regard. He said that this step comes in a suitable and synchronous time; after signing the reconciliation agreement between Fateh and Hamas. He denoted that the Palestinian workers have been the most affective spectrum by the division since lots of them have lost their source of income and lived under poverty.
Still, the Palestinian people hope that these simple and symbolic activities participate in promoting the reconciliation and push the political leaders to put aside the differences that may emerge among them in the future.