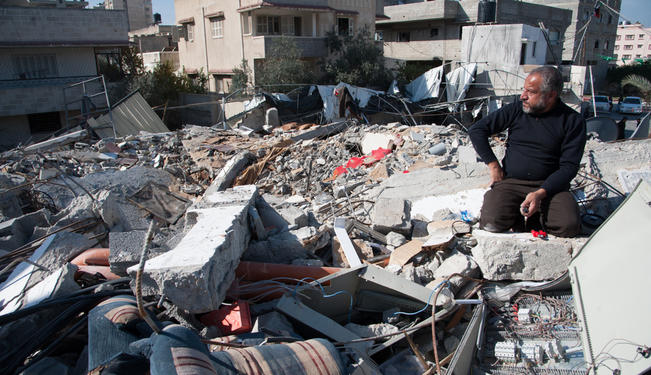 Over the past five years, humanitarian health workers Peter Smith and Catherine Thick have visited the Gaza Strip and the West Bank numerous times, providing health clinics and witnessing the everyday lives of the local population. The suffering they have seen in Gaza has prompted them to share their experiences, and call for a just and equitable peace between Israel and Palestine. This is the first of a two part series.
After passing through the Israeli crossing into the Gaza Strip at Erez, and having walked in a long cage through no man's land, we were waiting for a car to take us to the Hamas border control when a bomb exploded uncomfortably close. An old man sitting on the ground looked up at us and said, "bad" — which pretty much sums up his daily reality. We were rushed through for our safety.
As osteopaths and acupuncturists, we have volunteered in Gaza and the West Bank throughout the last five years, treating those with limited access to healthcare. Although entry into Gaza is severely restricted by the Israeli government, until now we have been fortunate to have received entry permits. However, our most recent request has been refused despite the Israeli authorities' claims that restrictions are easing. In our six trips, we have witnessed life under the blockade and the threat of recurring Israeli-Palestinian hostilities.
Our motivation is neither political nor religious. We simply intend to help relieve suffering. However, we are strongly opposed to the inhumane treatment of the people of Gaza. We are also concerned that the media covers the conflict mostly from the Israeli perspective, leaving the lives of the Palestinian people underreported.
Waiting once at the Erez crossing, we spoke to a foreign journalist who explained: "Israel banned all its journalists from working in the region due to security issues, and mostly party-sanctioned journalists report from Hamas territory, resulting in a near media blackout. The lack of information perpetuates stereotypes on both sides, which has done nothing but breed hatred and distrust."
Patients and Doctors Describe the Hardship of Everyday Life
The clinical sessions we have run in Gaza have been well-attended, giving us the opportunity to listen to the views of the many people who bear the physical and emotional scars of Israeli bombs and repression. A doctor at the clinic where we held our sessions told us: "Over 80 percent of Palestinian children suffer trauma [from] the sound of the Israeli F-16 fighter aircraft which frequently overfly the territory, and we have noticed an increase in the number of deformed babies as well as a sharp increase in the number of cancer patients, especially among children and women, [since] the 22-day war in 2008-2009. There are bombs almost daily. The Israelis do not keep to ceasefires, and the violations are never reported."
A lovely family with three beautiful, bright daughters attended every clinical session during our last two trips. The Palestinians highly value education, and the girls spoke good English. The 14-year-old daughter suffered breathing problems after inhaling noxious gases when an illegal phosphorous bomb exploded close to the family's home. She had become withdrawn with post-traumatic stress and experienced flashbacks, nightmares, insomnia and anxiety.
We treated her almost every day for two weeks. It was wonderful to see her breathing improve and her personality change from a frightened girl to a smiling teenager. Helping to relieve the suffering of children is profoundly humbling and rewarding. Their gratitude never fails to move us, but what we can provide is a drop in an ocean of need.
It is difficult to imagine the sense of anguish and helplessness the parents of these children feel. The girls' father said: "We find it difficult to comprehend why we are being punished because of the actions of extremist groups we do not support. Only a minority of us hold extreme views. We are a peaceful people who endure this brutal oppression, the massive overcrowding and rising poverty. We want a normal life and a future for our children whose innocence has been stolen."
Their mother is a nurse, who we treated for stress-related migraines. She explained to us: "With high poverty and unemployment, most people cannot afford to eat properly. The average diet is poor and loaded with unhealthy carbohydrates, so I see a lot of obesity, anaemia in pregnant women and children, diabetes and raised blood pressure."
More than half of the households in Gaza eat poorly or are short of food, even though almost 1.1 million people receive United Nations food distributions and 80 percent of households are given some form of assistance, according to a UN report in 2012.
On another trip, we treated a 65-year-old man with very painful advanced osteoarthritis of the knees. He was a qualified accountant but could not get a job in his profession, and instead worked as a builder's labourer for 12 hours every day, which exacerbated his pain.
The man was desperate for relief so that he could continue working to support his family. He said: "Those of us who are fortunate to have a job often have to support an extended family, which puts us under great pressure. Hourly wages are very low so we have to work long hours. We Palestinians are hardworking, [but] we cannot use our skills. We used to manufacture and export furniture to many countries." He continued gloomily: "Now, we can do nothing."
Despite the dignity and good humour of those we treated, the sense of despair under the surface was palpable. A physiotherapist at the clinic told us: "A few [Palestinians] are driven to the edge of insanity. There are acts of aggression toward one another and the Israelis." The latter cannot be condoned but is engendered by the complete asymmetry of power, the sense of injustice and the lack of recognition and support from the rest of the world.
Yet another patient drove a truck, delivering and collecting goods at the commercial border crossing. "The catastrophe in Gaza is not an earthquake or a flood, it's man-made," he said. Shutdowns at the crossing were frequent, and prices exacted by the export companies and Hamas were high. "They operate like a mafia," he shouted, "Israel, Egypt, and our government, everybody, are all restricting movement at the crossing, and the people of Gaza are paying the price."
*Read the [highlight]final part[/highlight] of "A Firsthand Account of Life in Gaza"