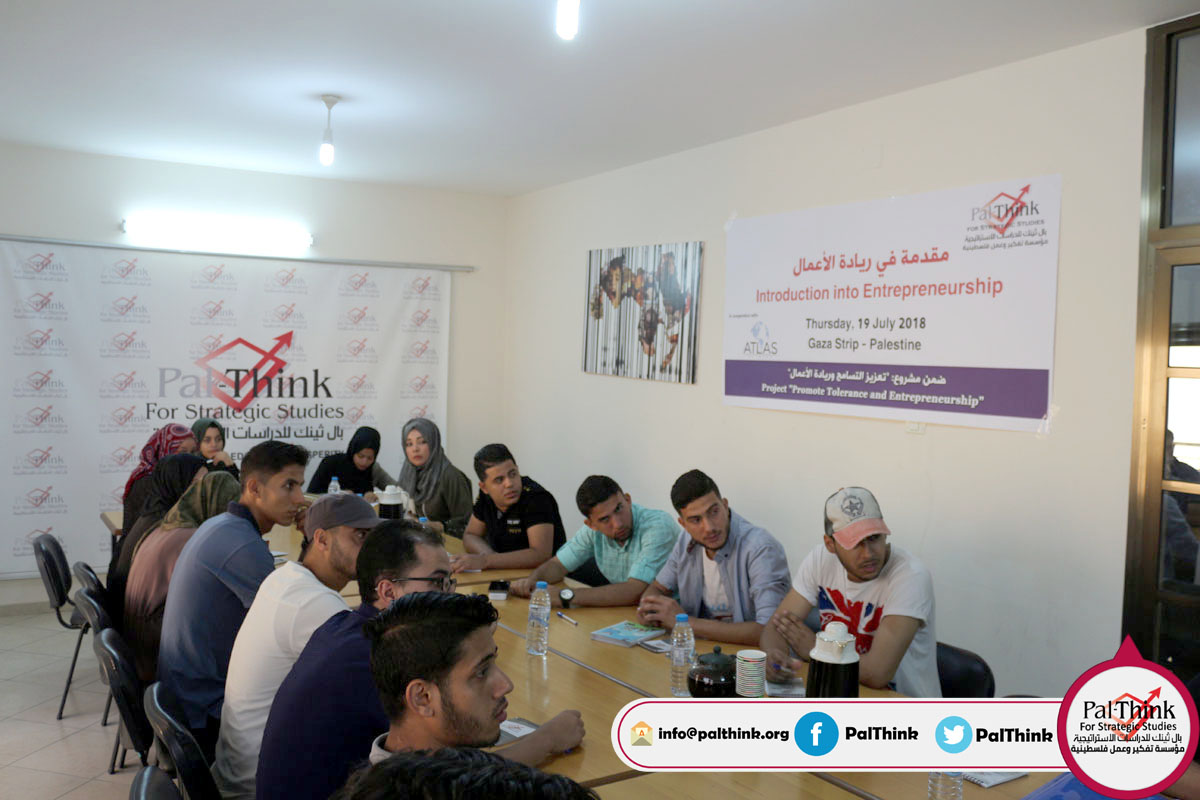 Pal-Think for Strategic Studies organized an introductory lecture on entrepreneurship for 25 university students and graduates from the Gaza Strip. This lecture was implemented within the framework of "Promoting Tolerance and Entrepreneurship", a project which Pal-Think has launched in cooperation with Atlas Network, a non-profit organization based in the United States. This project aims at promoting the culture of tolerance and entrepreneurship among the youth in Gaza.
In his welcoming remark, Mr. Omar Shaban, Director of Pal-Think, introduced the attendees to the organization and its scope of work. He noted that Pal-Think is a non-profit organization adopting an independent ideology and aiming at improving the life of the Palestinians. A clear example of this work is the project of Tolerance and Entrepreneurship, whose main goal is to foster the culture of entrepreneurship in the Gaza Strip, thereby reducing the violence resulting from unemployment and difficult economic conditions.
The lecture was delivered by trainer Ms. Samah Al Safadi, who addressed the concept of entrepreneurship, the reasons behind the rise of this universal trend in business as well as its pros and cons. In addition, among the topics discussed during the lecture were the business incubators and their role in supporting entrepreneurs and startups.
Ms. Al Safadi acquainted the participants with the business incubators in Gaza and the services they offer for the entrepreneurs. She explained that although we should be proud of what the Gazan entrepreneurs have accomplished so far, Gaza is still too behind. Despite the efforts exerted in this regard, the development of this field in Gaza is being crippled by deteriorating economic situation, not to mention the challenging political conditions.
The 25 participants, who were selected after filling an online application on the organization's website, have expressed impressive interest in the lecture. Although some are still students and others are studying subjects far away from business, they were all keen about learning the basics of entrepreneurship. Given the current economic situation in Gaza, they believe starting their own business might be the way to defeat the monster of unemployment.
During the past few years, Gaza has witnessed skyrocketing rates of unemployment, with the majority of its labor force being jobless. This has contributed to the rise of internal violence in the strip. Entrepreneurship has been one of ways to tackle this joblessness. Instead of looking for a job, Gazan youth have started to think about having their own businesses which, in turn, will create job opportunities for them as well as others. However, the field and culture of entrepreneurship is still in its infancy and suffering from political and economic hardships.