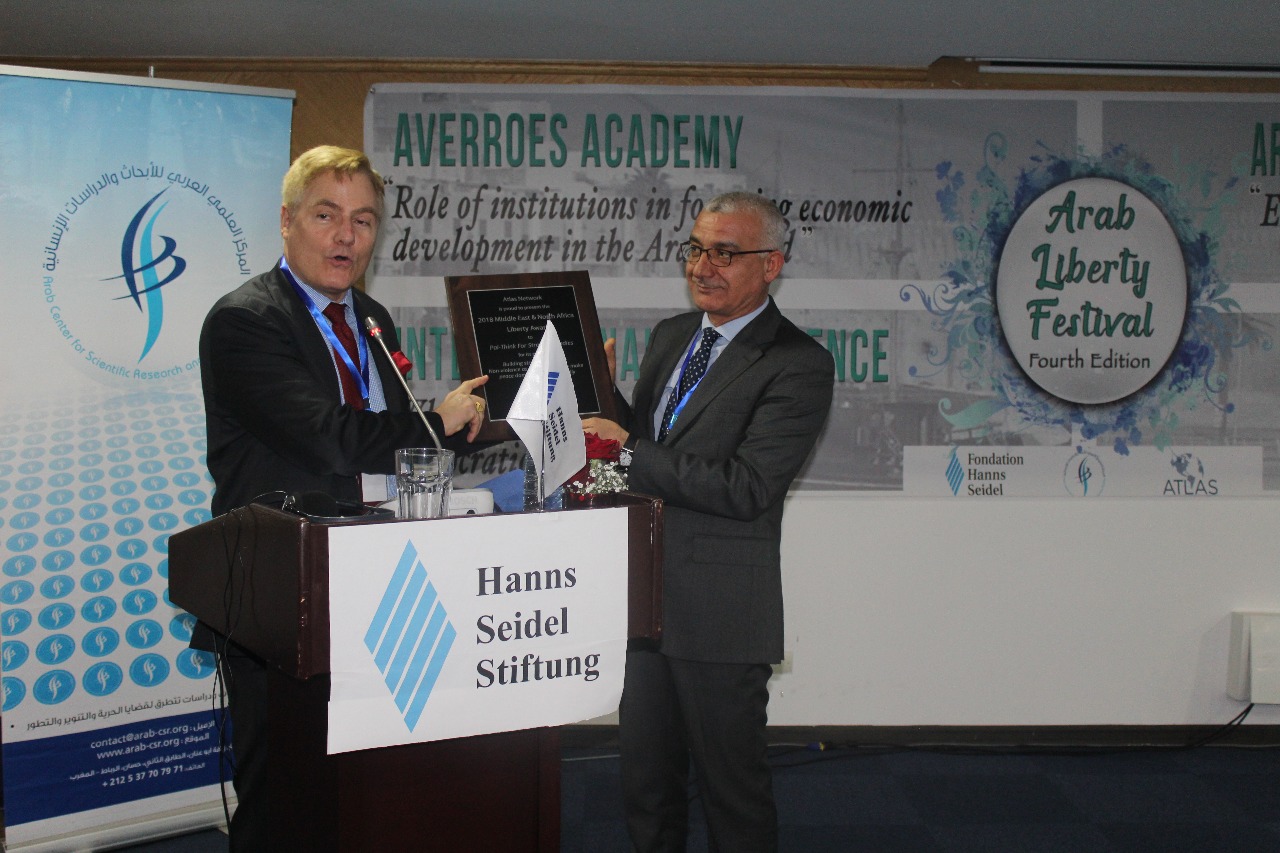 Pal-Think for Strategic Studies has been named the 2018 MENA Liberty Award winner for its work in advancing a culture of non-violence in the Gaza Strip. An independent Palestinian organization that aims to cultivate a healthy dialogue among political figures in order to overcome the challenges in Palestine, Pal-Think has implemented a number of creative and educational initiatives that foster a nonviolent culture and community harmony. Its initiatives have focused on different segments of the Palestinian population including children, mothers, writers, community activists, and young people.
"Winning the 2018 MENA Liberty Award means many things to me," said Omar Shaban, director of Pal-Think for Strategic Studies. "It conveys a strong message of support and appreciation to our work in promoting the values of freedom, entrepreneurial spirit, democratic transformational and the culture of nonviolence." Shaban attended Atlas Network's inaugural Think Tank MBA in 2008.
In its award-winning project, Pal-Think created and implemented a 10-day course — in conjunction with its partner FXB — for university graduates that focused on nonviolent methods of accomplishing change, such as lobbying and advocacy. Program participants then went on to teach what they had learned to others. This included teaching children how to encourage their own self-confidence and peaceful conflict resolution with others. At an event for mothers, Pal-Think discussed the importance of encouraging tolerance and positive dialogue between family members — especially teenagers — in order to promote a culture of nonviolence in Palestinian society. Pal-Think also confronted problems like extremist ideology and violence against women.
"The work of Pal-Think in Gaza under all types of difficulties prove that positive change can be made and should be reached," continued Shaban. "I express my deep thanks to Atlas Network and to the selection committee for selecting Pal-Think. We promise to continue our work and partnership to create a better, democratic, and peaceful society."
So far more than 200 people so far have participated in Pal-Think's programming on nonviolent culture. Initiatives like those created by Pal-Think are crucial to building a constructive society that fosters the flourishing of all people.
"Atlas Network has contributed remarkably to Pal-Think's success since 2008 — when I attended the Think Tank MBA in DC, in which I learned the principles of running a think tank," concluded Shaban.
Source: https://goo.gl/kmgQNM