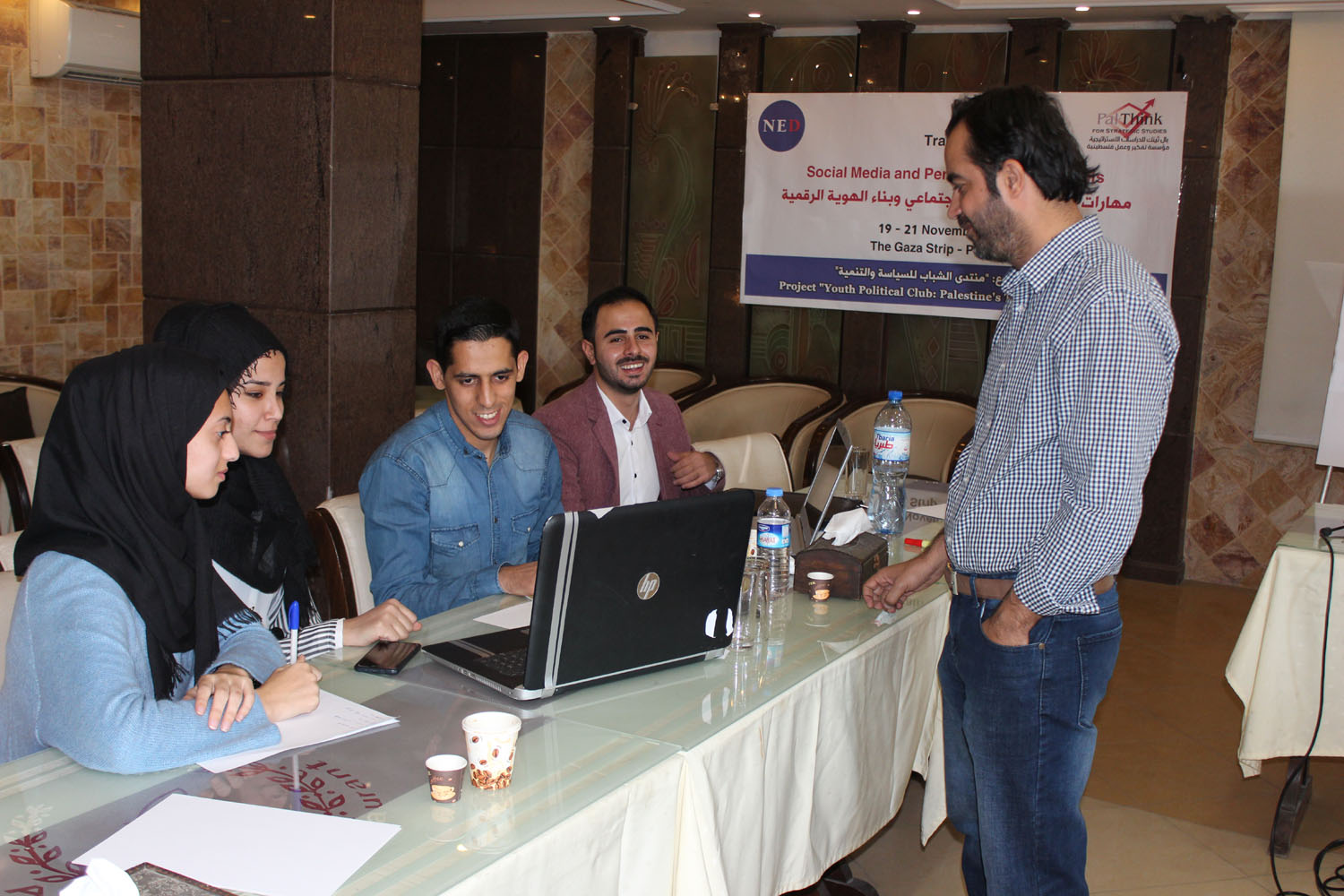 Pal-Think for Strategic Studies concluded a training program titled "Social Media and Personal Branding Skills" within the Youth Political Club (YPC) project funded by the National Endowment for Democracy (NED). The project aims at building the capacities of 25 Palestinian youth selected carefully, and train them on strategic thinking and community service.
During the first day of the training, YPC members learned skills for building their digital identities on both the personal and campaign levels. While on the 2nd and 3rd days of the training, they applied those skills to create sample campaigns on social media including how to design a logo, create content and stickers, as well as to produce short promo videos on their smartphones.
Mohammad Abu Alkomboz, a digital marketing specialist delivering the training, said "training young people on starting community initiatives is extremely crucial with a special focus on utilizing social media and technology to serve their communities. The trainees worked on four advocacy campaigns targeting bullying, gender-based violence, and domestic violence against children. Then they created demo pages on facebook and Instagram to learn about increasing audience engagement with the content." He added, "Pal-Think always invests in leaders of tomorrow, and prepares a leadership-ready generation. It is very important to build their skills now in such a transformative age."
Trainees also expressed gratitude towards Pal-Think's commitment to providing quality training. Nour Al-Louh, 23, a postgraduate clinical psychology student, said "I am very happy to be a part of this program, I learned information beyond my expectations. During the upcoming period, I will use these skills to plan an advocacy campaign demanding the right of elections and the youth's right to participate in them."
On the other hand, Haya Alghalayeni, 18, a business student, says that her outlook on the world has changed after the training saying: "The training Pal-Think sponsored covered all aspects and skills I would need. Pal-Think is a pivotal point in my life; I used to only care about good grades and university. But now I look forward to invest in myself for the future and implement community activities." She added, "Pal-Think focuses on the future, and made me think of my own future. I do not think this experience will ever go forgotten. So I say to Pal-Think: Thank you from my heart."
The YPC project will extend to April 2020 and will have covered a variety of activities programmed to found a human infrastructure of change. It started with a series of lectures on law, history, democracy, and other topics of priority to Palestinians. Lectures are then followed by a series of training modules in the following topics: Communication and Leadership Skills, Social Media and Personal Branding Skills, Conflict Resolution and Community Peacebuilding Skills, Policy Writing Skills, and Lobbying and Advocacy Campaigning Skills. The capstone project for the YPC members in this project will be planning and implementing community initiatives to apply their skills in giving back to the community.