Announcement
Mapping and Analyzing the Role of Palestinian Civil Society in Building Sustainable Development in Palestine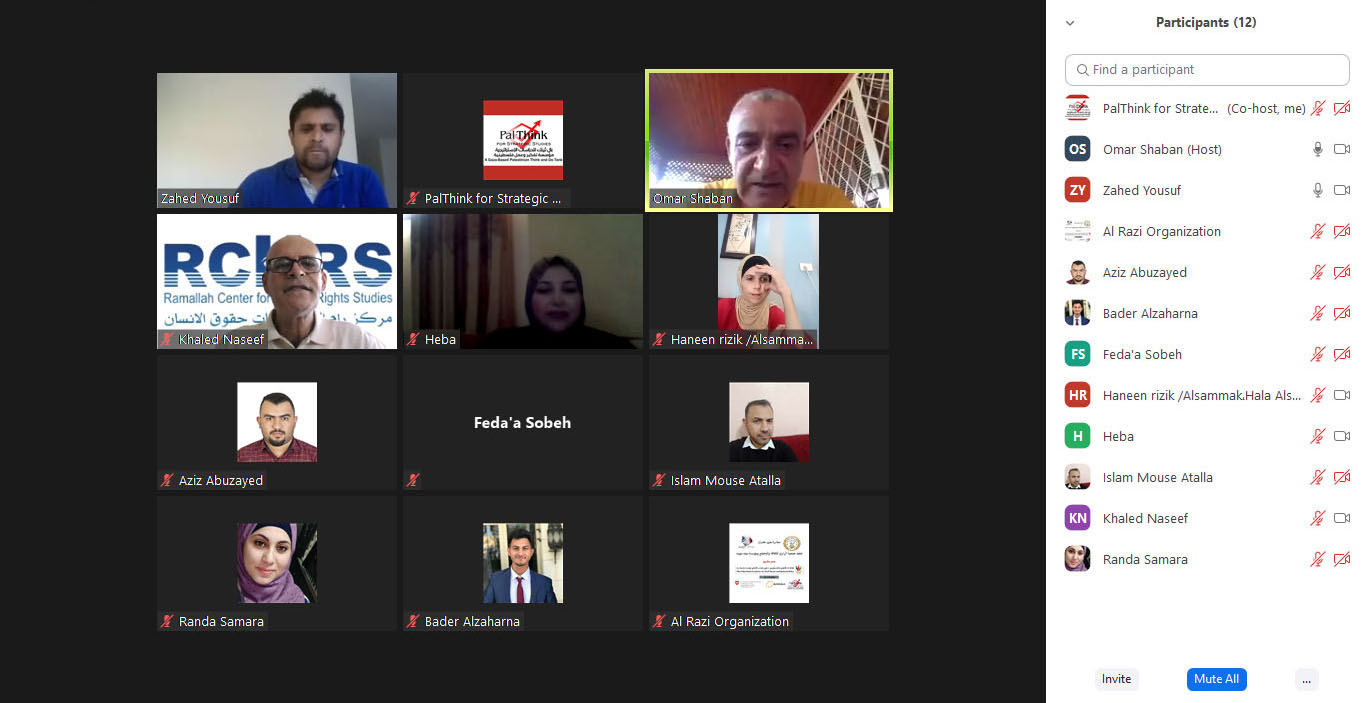 Pal-Think for Strategic Studies in cooperation with Dialectiq, an innovative foundation for complex analysis and research, concluded a 5-day virtual training program for Palestinian Civil Society (PCSOs) across the Gaza Strip, West Bank, and Jerusalem. The program is funded by the Consulate General of France in Jerusalem.
The aim of the program is to begin a process of strengthening the collective force of Palestinian Civil Society to develop coordinated strategies for supporting more sustainable development.
This project is designed to improve coordination between Palestinian Civil Society Organisations (PCSOs) in West Bank and Gaza and enhance their ability to think strategically about how they intervene. The program used an interactive digital tool to run a series of online participatory analysis workshops that are helping 12 PCSOs members to design smart and adaptive programmes, proving them with a foundation for collaborative learning and future joint strategy building to engage more effectively on issues of sustainable development.
So far the training has introduced participants to new ways of communicating and analyzing their context. It has helped them deepen their understanding of what sustainable development means and what change is necessary in order to achieve it. Participants are exploring the different interests, values and power dynamics affecting sustainable development and finding ways to navigate these dynamics to create systemic change. As a consequence they are better able to understand how policy-makers, local authorities and the private sector can collaborate and support a path towards sustainable development. The training adopts scientific analyses and methodologies to explore ways to influence and better the civil society work.
The training aims at attracting participants working in diverse fields. For this reason, it invites members from NGOs, INGOs, and CBOs working under the themes of human rights, education, community service, health, youth empowerment, and women empowerment. Young graduates and youth activities have also been invited to this training so that they can share their perspectives. This being said, the training offers an adequate and equal opportunity for women, men, and the young to participate, discuss and share their own experiences that will all in all result in assembling a long term strategy upon which action will be taken, a difference will be made and reality will be changed across Palestine.
Zahed Yousef, founder of Dialectiq and international expert, delivered the training under the ideas Dialectiq innovated. This training is the first phase of a project that entails providing advanced training courses. Moving forward, the program ends up with an analytical study on the environment of the civil society work, power resources and how the civil society can cooperate with official stakeholders to come up with a long-term strategy contributing to leave a positive impact on the Palestinian reality.