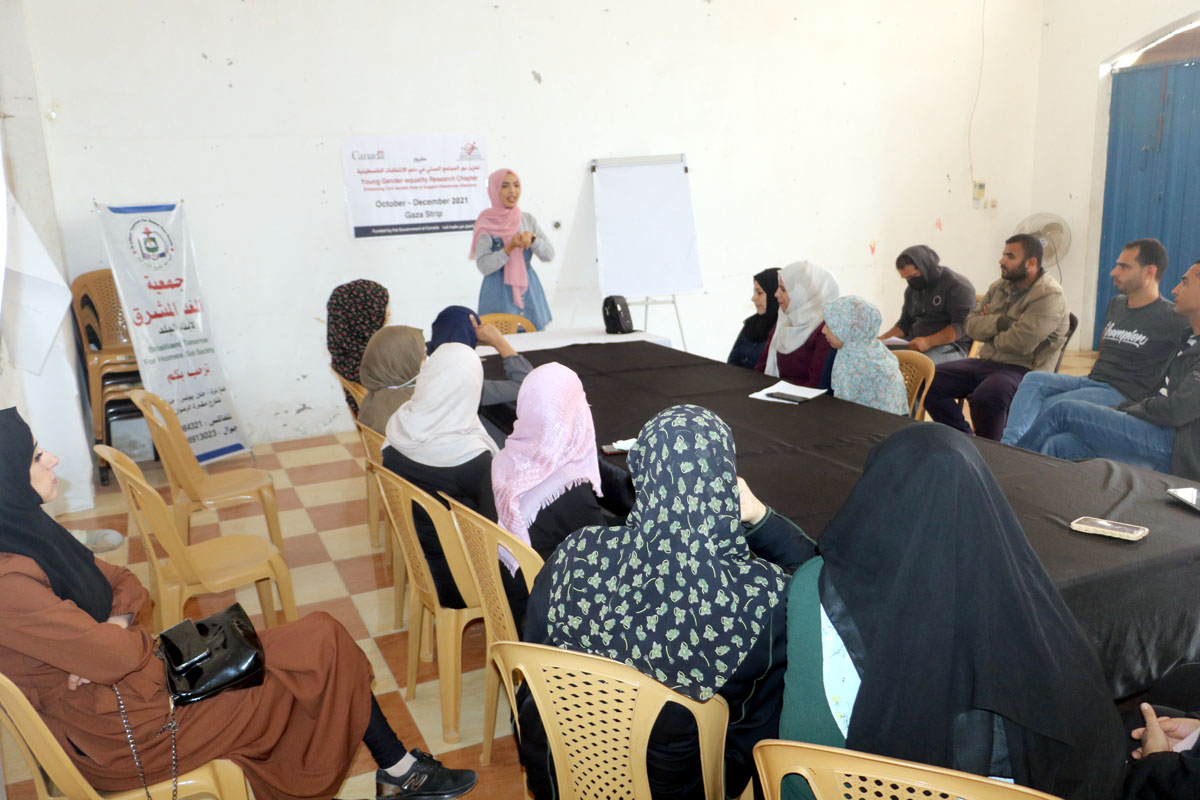 Pal-Think continues implementing awareness-raising sessions on democracy and human rights issues targeting different groups in society, especially young people. This comes as part of Empowering the Role of Civil Society in implementing the Palestinian Elections" project implemented by Pal-Think and funded by the Government of Canada.
A session entitled "Peaceful Dialogue among Palestinian Youth," was held in cooperation with Al-Karmel Culture and Social Development Association. The session highlighted the concept of dialogue and how to promote a culture of dialogue in society, especially among Palestinian youth who have experienced firsthand the division and suffered its consequences which continue to be exacerbated by the continuation of internal fighting and repeated conflicts.
There was also addressing the mechanisms for setting up a good and sound environment for expressing opinions on various issues, particularly political issues. It was emphasized that peaceful dialogue is the primary means of achieving comprehensive community peace for all parties as mutual dialogue, understanding and peaceful means are noticed among the international experiences that are the key to end any conflict. The session also conducted a theatrical sketch by young people to express their views on the culture of dialogue in society confirming the need to promote this culture and the importance of supporting youth in order to contribute to civil peace raising awareness.
The session was moderated by the trainee Albara' Alzeyan who is a project's participant. At the beginning of the project, a training program was carried out for youth to qualify them as activists to be capable of transmitting information and contributing to awareness-raising on democracy and human rights issues
Another session was carried out in Southern Governorate in cooperation with Brilliant Tomorrow for Homes Sons Society "Alghad Almoshreq"  entitled "Local Committees and Municipalities-Local Democracy". The session was moderated by the trainee Aseel Safi on the duties of the local committees, their role in empowering the municipalities, and their responsiveness to the citizens' needs, especially since the issue was timely in accordance with the infrastructure crisis in the region. Therefore, an advocacy campaign was launched.
Moreover, a discussion was held on the potentials of municipalities and the importance of involving youth in decision-making emphasizing their positive role in joining and supporting the youth campaign.  This campaign has been discussed from the perspective of local democracy as well as mentioning the role of youth in change that is developing society and contributing to solutions to all its crises.
The designations employed and the representation of material in these meetings do not imply the expression of any opinion whatsoever on the part of the Government of Canada."