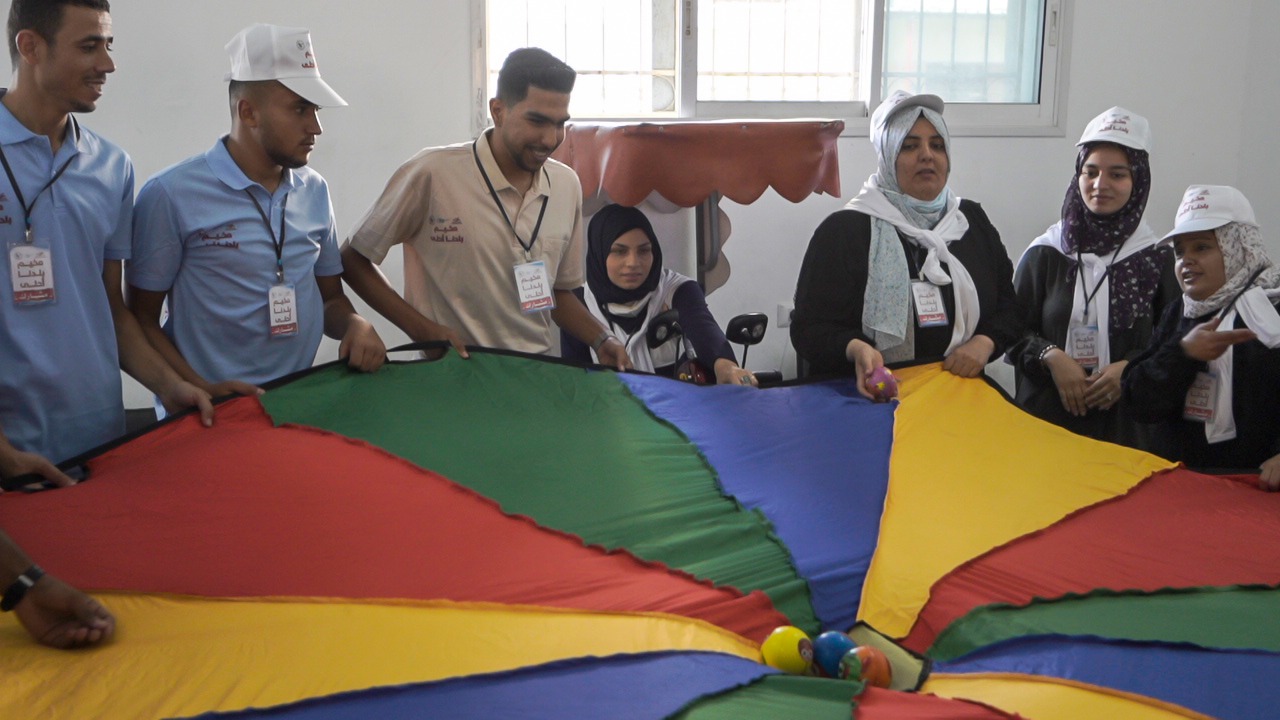 Rafah, Alasdiqaa Association for people of Special Needs inaugurated the activities of the environmental camp titled "Baladna Ahla equivalent to Our Country is Beautiful". This activity is implemented in partnership with Palthink for Strategic Studies & FXB within the project "Plant the Seeds of Hope in Gaza Youth and Children".
Saly Alsammak, Palthink Programs Officer, and Sami Barhoum, Alasdiqaa Programs Officer, attended the camp launching event. Twenty female and male participants who are with disability are targeted to engage in the camp's activities.
Samy Barhoum said that the camp aims to contribute to debriefing and discharging stress and psychological pressure that youth and children suffer from especially those of special needs and post the latest aggression on the Gaza Strip. He also pointed out that the camp enhances the participation of youth in the society to advocate the protection of environment, introduces the participants to the reality of environment in Palestine including challenges and opportunities, and strengthens their voluntary work experience, and familiarizes them with eco-friendly best practices. Barhoum praised the continuous efforts of Palthink that has worked since 2007 to link knowledge with prosperity, empower women, girls, people with disabilities, and create development opportunities to the Palestinian society.
Following the inauguration, Sally stressed that Palthink, through its programs, includes and empower people with disabilities especially the young who have not been given a space to engage in the society, participate in activities, and improve their soft skills. She asserted that this camp is a significant step towards inclusion and youth empowerment and that this camp's ultimate goal is to encourage youth and children to continue working on giving back to and building their communities and cultivate a shimmer of hope in youth.
The project lasts for 5 days and entails providing the target group with activities on recycling, arts, and recreational and athletic activities. In addition, some activities focus on offering psychological support sessions, field visits to small businesses related to environment, and training courses, and awareness-raising meetings on the reality of the environment in Palestine. The target groups of the project will be involved in peer-to-peer education activities through which they transfer the knowledge they will have acquired by the completion of each activity.