New releases
Pal-Think signs its first official agreement with Danish University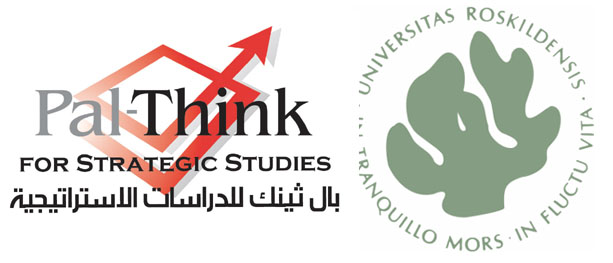 Pal-Think for Strategic Studies has signed a memorandum of understanding with the Department of Society and Globalisation (ISG) at Roskilde University (RUC) in Denmark on promoting international cooperation in education and research.  Since an academic representative from RUC visited Pal-Think and Gaza in October 2014, the two institutions have worked actively to consolidate an agreement and on the 6th of June 2015 it became official. Pal-Think has already had the chance to host a former student of ISG through a 3 months internship in Gaza and it is hoped that the new agreement will make it possible to engage in more of these mutually beneficial exchange visits.
Many Palestinian students have a strong theoretical foundation through their studies at Palestinian Universities, though often lacking the means to apply their theoretical knowledge into real life opportunities or jobs. An opportunity for exchanges will offer these students the possibility to go out into the real world and apply their theoretical concepts. RUC is a university specialised in problem-oriented research and is known for its emphasis on project work through which students work in teams as an integrated part of their curriculum. The university is hereby especially known for its ability to bring university and society together and to push the boundaries for knowledge. This innovative approach to academic research aims to give students the tools to apply their academic research in a real world scenario outside of the university; Pal-Think sees great potential in this approach.
With more than 80 permanent staff members, some 65 PhD students and a significant percentage of international students, ISG offer an attractive international environment for teaching and research and it is the aim of the new agreement to enhance an exchange of knowledge and methods between the two institutions. Furthermore, it is the aim of this Memorandum to strengthen the direct link between researchers and students from ISG and Palestine to increase the possibility for academic collaboration on concrete research projects. Pal-Think will make it a priority to facilitate such processes and be actively involved in the collaboration.
Pal-Think is very happy to announce its new collaboration with the Department of Society and Globalisation at Roskilde University and we would like to give a special thanks to the Head of the Department at ISG, Peter Kragelund and Michelle Pace, Professor MSO (with special responsibilities) at ISG for making this collaboration possible. Pal-Think will be looking forward to engaging in an active partnership and close collaboration with ISG and RUC.