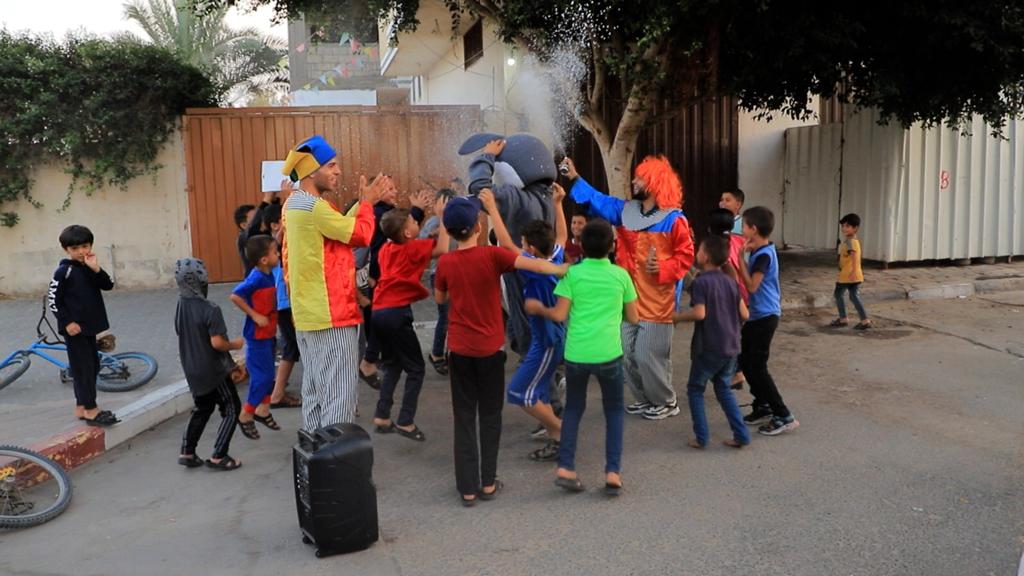 Benaa Youth Center has concluded the "We Make Hope of Life" initiative in partnership with the Pal Think for Strategic Studies and FXB within the project "Plant Seeds of Hope for the Children and Youth of Gaza," in Abasan Alkabeera, a marginalized border area in Khan Yunis in the southern Gaza Strip.
The initiative included recreational auto rickshaw tours of a group of young activists and clowns taking auto rickshaw and walking around the public areas. They were handing out gifts to children, and implementing energizing groups and games to entertain children and alleviate psychological stress while keeping distances between them.
In addition, there were recreational days to children and parents in open areas, painted murals on disseminating hope to youth and children, and a photo gallery for children from school students' drawings.
Parents participated in recreational days affirmed on the importance of these initiatives and activities in improving their psychology as well as their children. This comes due to the successive crises in the Gaza Strip: Israeli aggression, the closures caused by the Covid-19 pandemic and psychological pressure.
Moreover, students from the various activities were unanimous in saying that they were happy because these activities integrated them with other children and provided them with an atmosphere of play and entertainment with games and awards.
This initiative comes as a result of the "Youth is Hope of Life" training camp which trained 20 youth from Khan Yunis on: how to write initiatives, how to choose ideas for initiatives, how to link them with the community and youth group, and the conditions for an effective community initiative. They also had been trained on the psychological support and recreation for the youth participants.
These activities are carried out by young people after they have been qualified and trained to work with different community groups and to practice what was addressed during the training camp.
These activities, carried out in partnership with Pal Think, are part of the Benaa Youth Center plan after the recent aggression. It has carried out a number of activities, discharge and psychological support sessions and programs aimed at alleviating the pressure of all community groups.