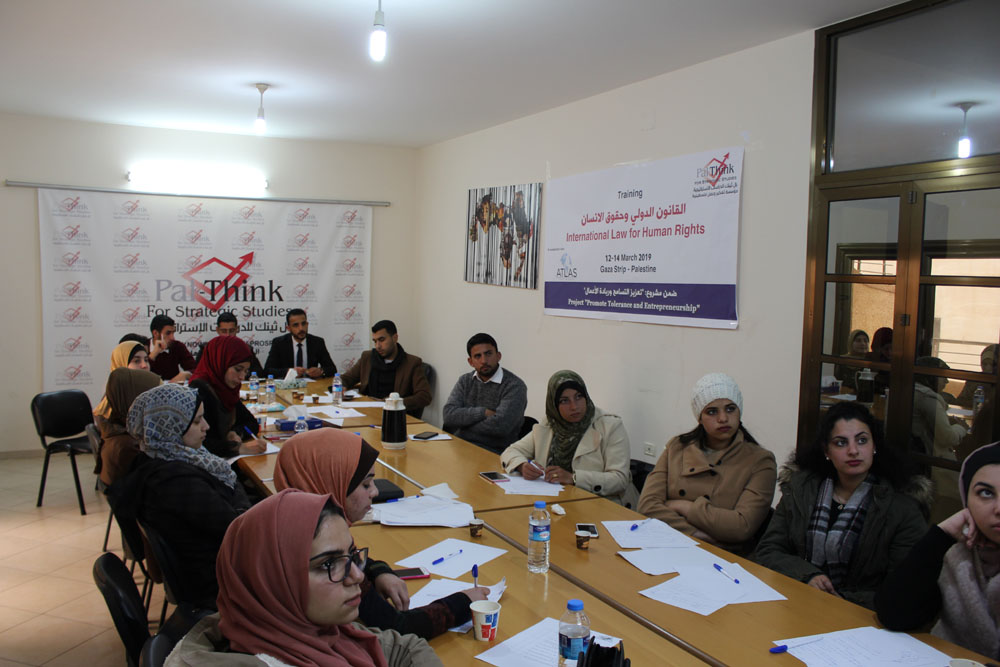 Pal-Think for Strategic Studies has concluded a training entitled "International Law and Human Rights" for 20 university student and graduates from the Gaza Strip. The training was implemented within the framework "Promoting Tolerance and Entrepreneurship", a project which Pal-Think has launched in cooperation with Atlas Network, a non-profit organization based on the United States. This project aims at promoting the culture of tolerance and entrepreneurship among the youth in Gaza.
The Director of Pal-Think  Mr. Omar Shaban welcomed the attendees and introduced them to the organization, as he emphasized the importance of such training in educating and increasing the knowledge and awareness of youth, regarding the field of human rights and democracy, to raise their competencies in this field ,and  develop their abilities to defend their rights. He also invited participants to convey what they learned in the training to their peers, to spread the benefit. have
The training lasted for three days, and supervised by both legal lawyers Mr. Mohammed Abu Hashim and Mr. Mohammed Al – Telbani, whom addressed many topics that fit the needs of the target group, related to human rights including: human rights, international human rights law, international legitimacy of human rights, freedom of opinion and expression, democracy and civil peace in international law, tolerance in international law, Law and the independence of the judiciary, fundamental concepts of general international law, as well as the peaceful resolution of international disputes.
At the end, participants expressed their appreciation for the training, and how beneficial to them to learn all these skills and concepts  that will help them in their practical life, as they will be able to raise their voice and demand their rights .