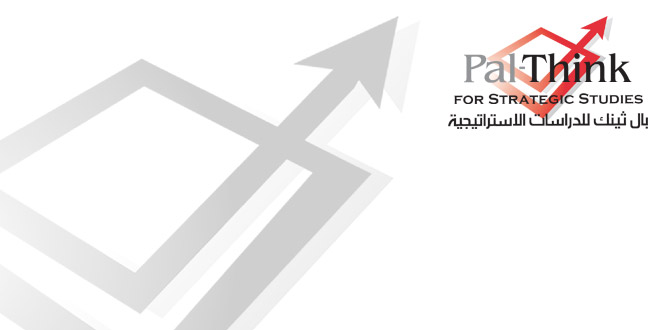 As part of project "Enhancing Democratic Participation of Palestinian Youth", Pal-Think for Strategic Studies has concluded its series of episodes for the "Youth Participate" program, funded by the Government of Canada.
The episode was hosted by Pal-Think director and founder, Omar Shabaan, as well as political researcher Yahya Qaoud, who supervised the preparation stages within the project.
Qaoud begins the episode, praising the efforts made by the Pal-Think team, it's supervising members,  and trainers, who played their role in training all participating young men and women, which resulted in eleven successfully produced research papers that dealt with topics and issues pertaining to the societal participation of Palestinian youth as a demographic.
Mr. Qaoud stated that, among the many youth projects conducted by Pal-Think, this project had the strongest explicit focus on the youth demographic. He discussed the project's goal of enhancing the youth's confidence in their ability to present, swrite and organize their political ideas in a professional manner. He presented these political ideas over radio and concluded the introduction, noting that work took eight months until this result was reached.
Mr. Omar then explained the importance of the Youth as a target demographic for Pal-Thinks effort.
First, that 62% of the Palestinian youth (under 30 years old) represent the majority in the Palestinian society, represent the leaders of the future, and suffer the most under the current conditions in Palestine.
Second, the important role youth plays as the most important natural resource for a country: labor.
Third, the importance of youth in bridging the gap between what Palestinian higher education institutes provide and actual development needs; a mutual mission between all civil society institutes.
The main topic of discussion was the role the project would play in bridging the gap between what higher education institutions provide for the student and the practical knowledge needed for scientific research; academic education provides theory and knowledge to form a theoretical basis but it does not provide practical knowledge of the tools needed. With this project, Pal-Think would provide the equivalent of two academic semesters worth of practical training and experience.
Mr. Shaban concludes the episode by stating that these political papers serve to break the Palestinian stereotype that the participation of young people is limited to attending forums, conferences, and meetings, that these political papers prove to leaders and decision-makers that the youth has the ability to construct real solutions for the problems of Palestine.