Announcement
Lecture on :Key Dates in Palestine's History Since 1917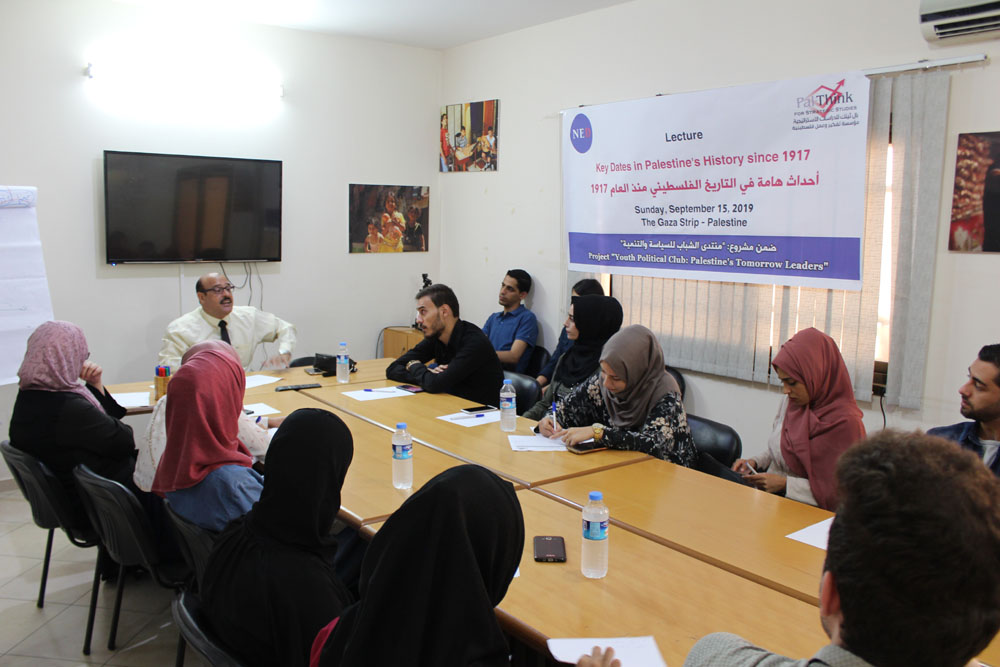 Pal-Think for Strategic Studies convenes its 10th lecture entitled "Key Dates in Palestine's History Since 1917" under Youth Political Club: Palestine Tomorrow Leaders. Indeed, this lecture has concluded a series of lectures through NED project and that has targeted a number of 20 university students and graduates from around the Gaza Strip.
This lecture has shed spotlight on the most crucial dates in the history of Palestine. Hence, the  participants have acquired much information in regard to the origin of some Palestinian cities' names, the history of these cities and key incidents that Palestine witnessed in the past.
Following the lecture, the participants have learnt facts concerning the culture and history of Palestine and thus have been involved in an interactive discussion amongst each other.
Subsequently, the lecture has stunned the participants because of the tremendous amount of information they have for the first time known. They have actually expressed their excitement about joining more lectures that discuss the Palestinian history in the future.
Having this highlighted, this lecture has given the space for the participants to raise questions they have not found answers for pertaining to the origins of many cities, tribes and peoples that have dwelled in Palestine for decades.
At the end of the lecture, everyone has shared their thoughts for prospective activities they would like to implement. Thus, they will be holding several upcoming events through which they, peer to peer, benefit.