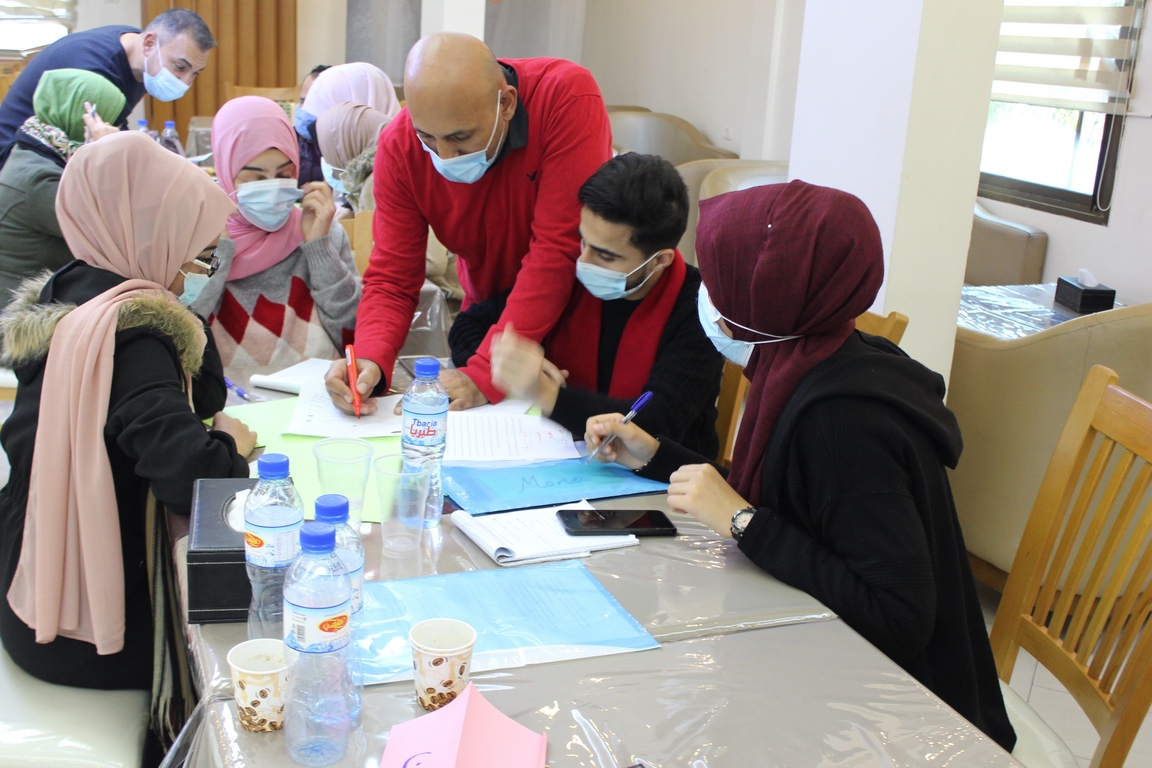 Pal-Think for Strategic Studies has launched a training program entitled Young Gender-Equality Research Chapter, which aims to promote gender knowledge among young people/women, with the participation of 20 trainees selected based on their competence and experience in the research, funded by the Government of Canada.
The meeting was opened by the Director of Pal-Think, Mr Omar Shaaban, who welcomed the attendance and praised their commitment to safety procedures, and said that Pal-Think is an independent research institution working on community reconciliation since 2007.
Then he added that Pal-Think believes in the abilities of young people and works with all its potential to build a generation of educated young people because Pal-Think's enduring motto is continuity in working with its trainees; to strengthen their community capacities, and to strengthen their research capabilities to write in a systematic and scientific way about their own issues.
After that, Mrs Sally Al-Sammak, the project coordinator, talked about the project and its objectives and main directors, which should have an impact on society, contribute to change for the better, reduce violence and introduce women's issues and rights.
Then she mentioned the most important topics that will be discussed in the training program, such as Gender studies, specialized research writing in gender and women, and e-advocacy on community issues.
Moreover, on the first training day, trainer Azza Kassem addressed the concept of gender and feminism, its roles, and the most important factors affecting it, such as the economic and social factor. She also spoke about the system of laws and legislation that make up Palestinian law and community culture and their impact on the distribution of roles between men and women in Palestinian society.
Besides, Ms Mona AlMsaddar (25 years old), one of the participants and writer, emphasised on the importance of such training for her especially because of the increasing rates of gender-based violence in the Gaza Strip. She also stressed that this training has come to create critical awareness about Gender topics. Then AlMsaddar highlighted the role of intellectuals to minimize gender-based violence.
Furthermore, the trainee, Abdullah Abu Shamla (24 years old), a psychologist, said that this program benefited him in his specialization because he met men and women who are victims of gender-based violence.
Then he added that It helped him in dealing with the victims who were subjected to violence. Plus, he believes that after this training he can guide those victims in reducing violence against them. Abu Shamla also stressed that he would also contribute to raising awareness and identifying the groups that he had engaged with, as a psychologist, about gender-based violence and ways to avoid it.
It is worth noting that this project will cover the production of ten research papers from the perspective of young people associated with the training program on women and gender issues. Additionally, a radio program that promotes women's rights and advocates against gender-based violence.