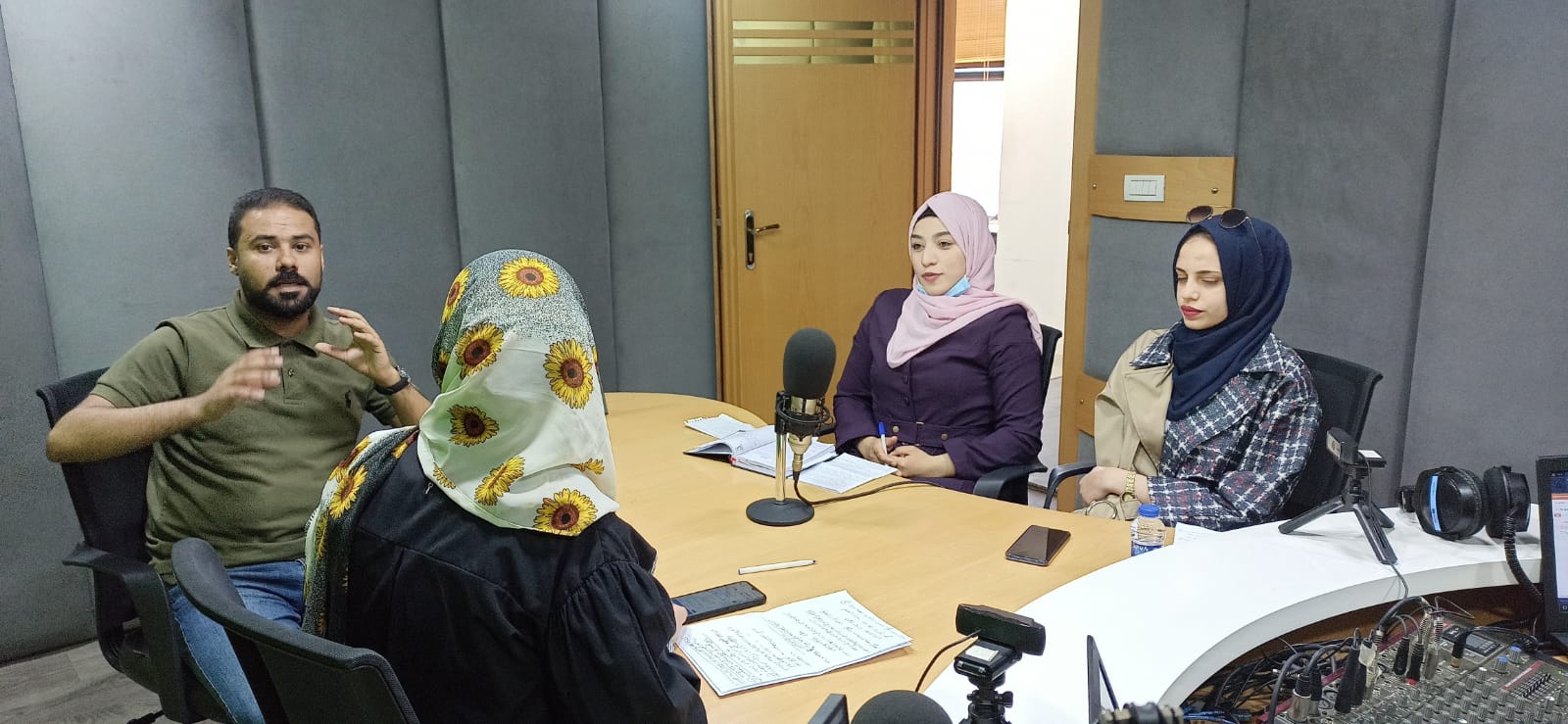 To complement its efforts in empowering young people, Pal-Think for Strategic Studies has implemented the fourth radio episode entitled "Mechanisms for promoting democratic values and human rights in Palestinian society"  within "Dialogue with Young People," broadcast as part of the  Civic Education Project, implemented by PalThink and funded by the National Endowment for Democracy (NED), which aims to promote democratic values and human rights among university students.
The guests of the episode were both: Lawyer and legal scholar Abdullah Shershira, members of the Civic Education Corps of Pal-Think, Ms Hanin Lulu, and Ms Aya Abo Hatab who began her talk by presenting the corps establishment .She pointed out that the project had benefited them greatly, as a result of which a series of workshops had been held at universities and CBOs. She also added: "For the first time I was educating my peers on the topics of democracy and the subjects on which we were trained."
On how to advance human rights in Palestine, Abu Hatab said: "We must create a belief among individuals in the importance of human rights. Unfortunately, if we ask many of them, they do not believe in the work of human rights institutions, we must correct people's beliefs about human rights, create a new intellectual system that ensures respect for and rights of the individual, prevent attacks on one's rights in any way, ensure that political and economic reference for all is based on humanity, train young people to participate in political life"
Abo Hatab noted that all movements of change in history have been led by young people. Their first role is to educate, acquire knowledge of rights and duties, and then transfer their knowledge and concepts of human rights to others.
For her part, Ms  Hanin Lulu, began by praising Pal-Think for giving young people this opportunity to express themselves unconditionally. She said: "One of the best things I have seen is the spirit of working as a team, besides the student turnout, as students  were looking forward to  the knowledge because the meetings are not based on indoctrination, but rather on the exchange of information."
She added: "The fundamental objective of the promotion of human rights among citizens is to form a good citizen who will participate in a system of governance in all its terms and conditions."
Lulu noted that the role of youth in the dissemination of human rights is through training, education, and the transfer of knowledge and skills.
In turn, lawyer Abdullah Shershira pointed out that human rights principles are fundamental rights that must be enjoyed by all.
He added that the human rights situation in Palestine is extremely precarious, Shershira pointed out that there were three main determinants of the human rights situation in Palestine: first, the political situation in Palestine, where there is internal conflict, second, the economic situation. Unemployment and poverty are high. This means that the right to adequate living and the right to work are missing. Thirdly, occupation affects several areas and levels, including human rights.
The lawyer said: "If we want to change reality, we must understand reality, most young people and others are unaware of their rights. For example, the right to work, less than 4 per cent of workers have employment contracts, even educated groups such as journalists, most of whom work without employment contracts, and are subject to career violations. 
He further emphasised that human beings must claim their rights through civilized means if they realized them. This is what Pal-Think's Civic Education Corps is doing.
Shershira explained that Palestinians had the right to free education, the right to social security, health and life, the right not to be detained against the law, the right to choose and participate politically, and the right of children to an environment free from domestic violence.
He stressed that young people were the group most affected by the lack of human rights in Palestinian society as a young society. In addition to the absence of a long-standing defence of generations in Palestine, it has ceased completely since the beginning of the internal conflict. He also pointed out that human rights were the most important guarantee that the tragedies of the Second World War would not recur. The more the human rights system does not work, the greater the chances of renewed war and suffering.
Shershira concluded by saying: "One of the most important obstacles to human rights is the division that has given rise to a political and security system that, in many cases, treats human rights organizations in a monastic relationship that hampers any change. In addition, the ideological and intellectual tendencies of governing regimes may conflict with certain rights.