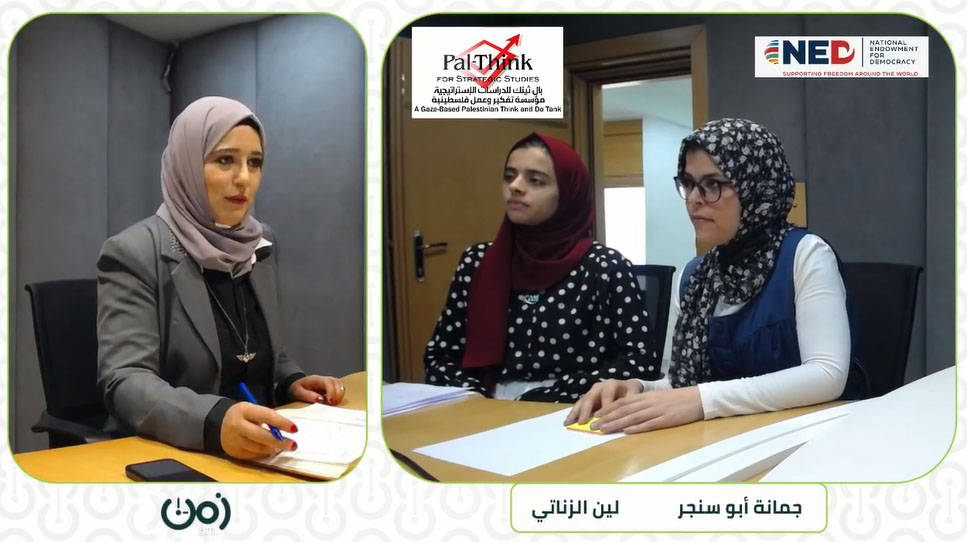 Pal-Think for Strategic Studies has launched a radio podcast entitled "Youth's Papers" which aims to involve youth in the development of society, promote the concepts of democracy and to develop their critical thinking, so they can occupy positions of decision making. This is via Zmn FM on Thursday as part of the project: Civic Education Corps – phase2 implemented by Pal-Think for Strategic Studies Funded by the National Endowment for Democracy (NED).
The first episode hosted two participants of the civic education corps project: the researcher Leen Elzinaty with the paper entitled "means to promote youth's political participation after postponing the Palestinian elections", and the researcher Jomanah Abo Singer covering the paper entitled" the mechanism of promoting students' participation on community work".
Ms. Abo Singer commenced by stating that a lot of youths are oblivious of the community work and the civil society institutions and this comes as a result of the harsh economic situation and the high rate of unemployment. She said:" regardless of the harsh circumstances represented in the division, poverty and unemployment, but still youths are assuming the responsibility of their community and of themselves.
In her turn, she clarified that many civil society institutions exploit young abilities under the name of volunteering, and without having a clear volunteering plan unlike Pal-Think. Ms. Jomanah mentioned that Pal-Think provides rich crash courses for youth, noting that she and around 23 trainees were engaged in one of Pal-Think's program where they learned to produce policy papers and to educate society by disseminating the knowledge they learned.
She concluded by stressing on the importance of youth participation in community work as it gets them acquainted with new people with different thoughts, increases their self-confidence and enhances their soft skills like; public speaking, dialogue and generating realistic ideas.
Meanwhile, the researcher Leen Elzinaty talked about the youth political participation, noting that it is one of the tools to achieve the desires and needs of youth in light to the intended marginalization of decision makers towards youth.
In her turn, she clarified that the core factors of the weak youth's political participation are presented in the absence of general elections, the Palestinian division, occupation, poverty, and the high rate of unemployment
In conclusion, she also mentioned the first step solutions, mainly: to raise youth's awareness through civil society institutions, media and advocacy campaigns to force decision makers hold the elections , noting that the political participations is stipulated in the PBL as a human right to every Palestinian.