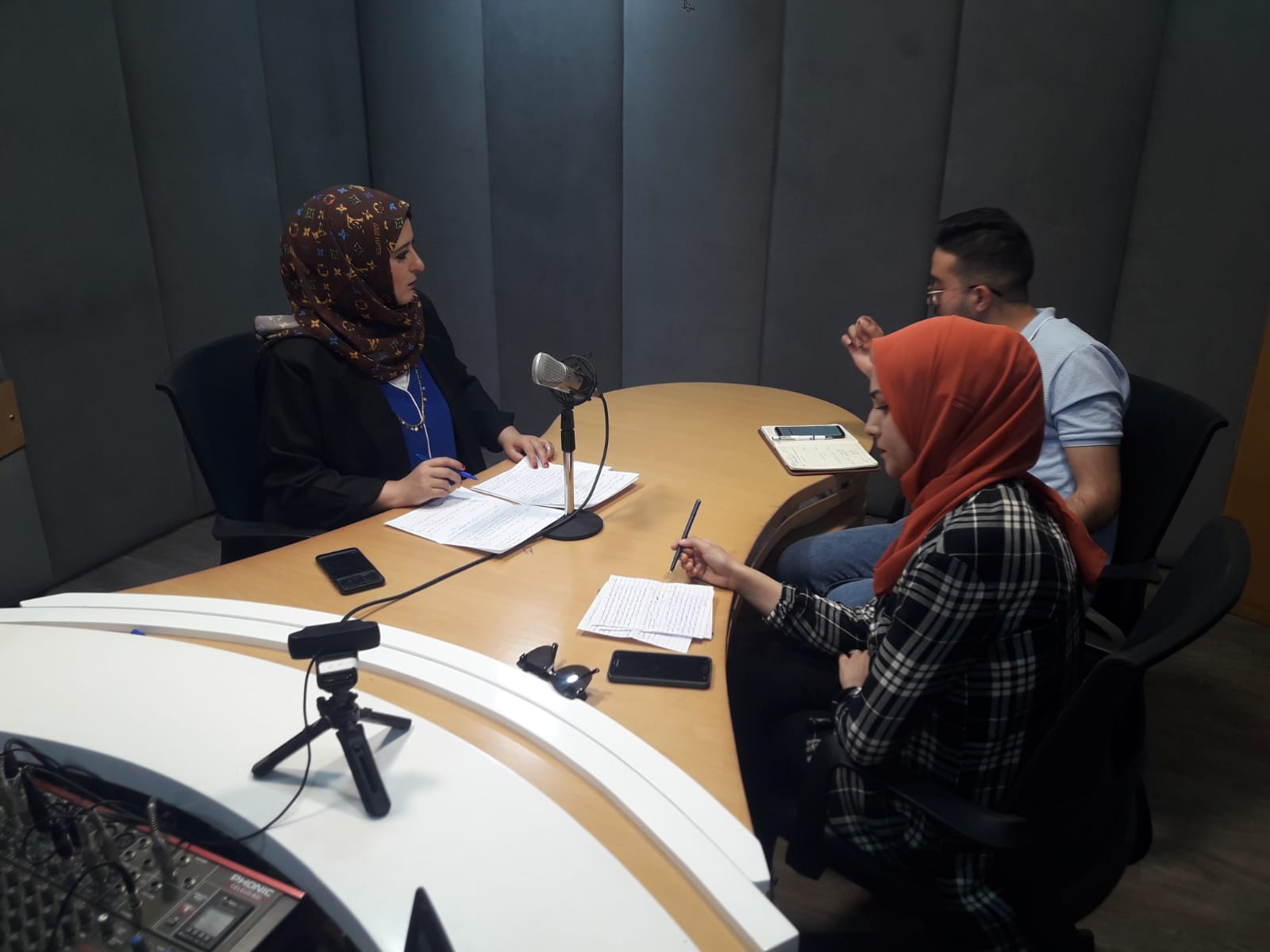 Pal-Think for Strategic Studies has carried out a radio episode about: the freedom of movement and increasing the minimum wage. This is via Zmn FM on Thursday as part of the project: Civic Education Corps – phase2 implemented by Pal-Think for Strategic Studies, Funded by the National Endowment for Democracy (NED).
This episode hosted two participants of the civic education corps project: the researcher Sami Shaqoura with the paper "increasing the minimum wage for workers in Gaza between the recognition and application", and the researcher Hadeel Ahel with the paper "Palestinians' freedom of movement between the international law and the Israeli occupation"
Ms. Ahel commenced her speech stressing on the fact that the freedom of movement is an essential right to all human beings, and it is guaranteed in the universal declaration of human rights and the international covenant of political and civil rights. She then clarified that the Israeli occupation constantly deprives the Palestinians from the freedom of movement as it controls all the Palestinian crossings and turns them into checkpoints to disturb around 140 thousands Palestinians a day whether in Jerusalem or in the west bank. She added that Gaza strip has been sieged for 15 years, and in 2021, the Israeli occupation built an apartheid wall surrounding all Gaza strip.
She concluded by noting that the international organizations play a vital role in putting pressure on Israel for Palestinians' freedom of movement
In his turn, Mr. Shaqoura started to speak about his paper, noting that the minimum wage in Palestine was changed twice in the past few years, and according to the council of ministers' latest decision: the minimum wage is 1880 shekels. He also mentioned that the unemployment rate in Gaza strip is 47% and 16% in the west bank.
He explained: " Gaza is suffering severe poverty and unemployment, especially that Gazan traders pay triple taxes to Hamas, PA and the Israeli occupation, but still it is unfair to compare it to the west bank because of the high living costs".
Mr. Sami clarified that despite all of the challenges, but we still can adapt mechanisms to apply the decision of increasing the minimum wage in Palestine: To alleviate taxation, encourage national industry, put a national plan to promote the conditions of workers in Gaza and to enrich investment plans.
In conclusion, both of Mr. Shaqoura and Ms. Ahel expressed thanks and gratitude to Pal-Think for the training program they received, noting that they were trained to educate the society through awareness sessions and to produce policy papers about the substantive issues of their society.