Culture and Knowledge
PalThink Holds A Roundtable Discussion, Addressing the Current Situation in the Republic of Yemen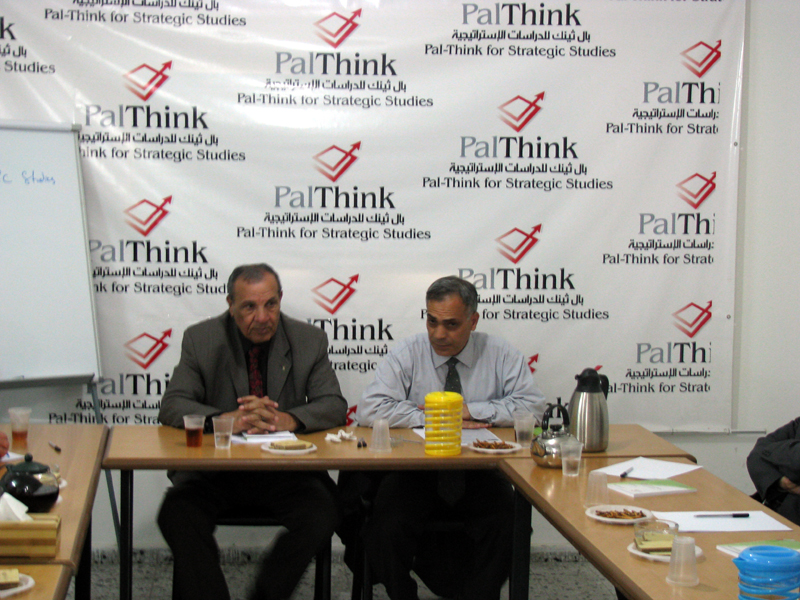 Gaza-Feb 21st — Edward Said forum- the cultural forum of PalThink for Strategic Studies has organized a roundtable to discuss the current political situation at Yemen, particularly the conflict between Houthi fighters and the Yemeni government.
The main guest speaker was Mr. Yehia Rabah, the former Palestinian ambassador to the republic of  Yemen. The workshop entitled " The Houthi issue / What is happening in Yemen ? " was attended by a number of specialists, intellectuals, youth groups representatives and experts who have expressed their happiness to attend such workshop that discusses critical issues that are occurring locally or internationally.
Mr. Rabah explained the roots of the conflict, its regional and international dimensions, and the future of this conflict and other potential conflicts. Mr. Rabah started his talk about the Yemeni case by a short presentation of the historical origins of the establishment of the Zaidiyya group and its emergence as a political group. The roundtable discussion suggested several points in analyzing the Yemeni case such as the relationship between Yemen and Saudi Arabia, the Iranian role and its impacts on Yemen, and the threats and challenges that are facing the republic of Yemen nowadays.
Workshop participants argued that this conflict between the government and Houthi group will come to an end soon. The participants claimed that the international community is concerned totally with a calm Yemen which is free of conflicts and tensions because of the regional importance and strategic location of Yemen. This international concern can be explained by the US strong intervention in solving the Yemeni problems as well the total support to Ali Abdullah Saleh government. The participants discussed the future potential conflicts in Yemen by reviewing the tribal, ethnic, and religious diversification in Yemen. This point was a base for explaining the necessity for a clear Arab understanding to the components of every Arab country in order to control the expected conflicts among the Arab societies.
As a conclusion, today's conflict in Yemen is on its way to be contained. But there are several chances for a future conflicts that may affect the stability of the middle east in general and the stability of Yemen in particular. " These exposures resulted from tensions in Somalia or Al-Qaeda threats as a radical threat require an intensive Arab and international effort to promote stability and peace in Yemen.