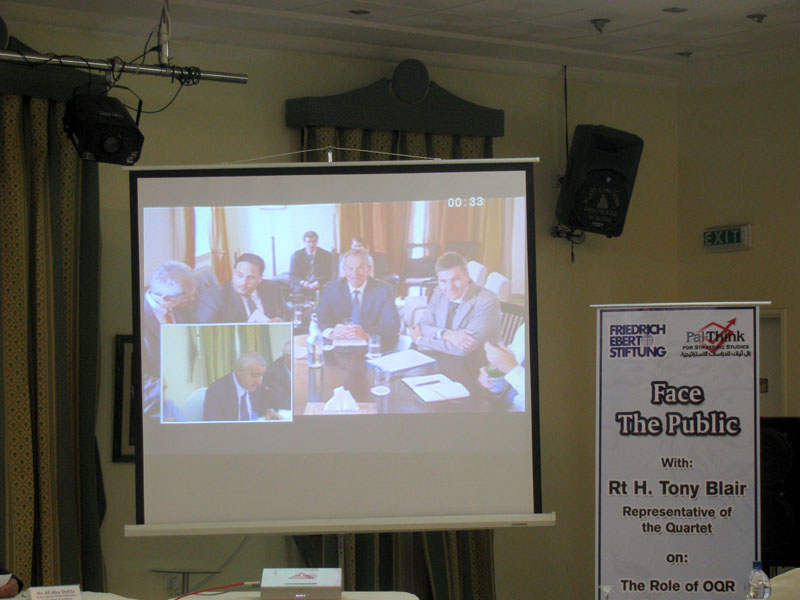 Gaza- Tuesday, June 22, 2010
In an address to civil society leaders in Gaza, Quartet representative Tony Blair called on Palestinian political factions to build on international efforts to ease the Israel's crossings by accelerating their efforts towards intra-Palestinian reconciliation.
"Things should be more practical, the Palestinian parties should achieve the national reconciliation," he said, speaking via video-conference in Jerusalem to PalThink for Strategic Studies.
Mr Blair insisted his discussions were ongoing to resolve remaining concerns over the steps Israel intends to take to ease the siege, and with Egypt to ease its restrictions on the passage of Gazans via the Rafah crossing. He also called on Palestinian leaders to improve the political climate, by pursuing Palestinian unity through reconciliation and releasing captured Israeli soldier Gilad Shalit.
Palestinian civil society welcomed Mr Blair's efforts to promote access and movement to Gaza in the face of Israel's three-year siege, but questioned whether the package the international community negotiated with Israel might be too little too late.
"We appreciate the role of the Quartet in solving the problems resulting from the blockade, but in the same time we need to focus on the future, to see what is needed," said Omar Shaban, Palthink's head.
Gazans expressed concern that any international acceptance of even partial closure would result in international legitimacy for Israel's siege on Gaza. Essam Younis, the director of Al-Mezan Center for Human Rights, described the blockade as a violation of international law. Ali Abu-Shala, a board member of the Palestinian Businessmen Association, called for the international community to embark on Gaza's much-promised post-war construction.
Mr Blair told the audience that they should distinguish between the larger political issues, which still awaited resolution, and the practical restrictions with which he said discussions were continuing with Israel and Egypt. "The Quartet has two tasks," he said: "to ensure the entrance of the items to Gaza and to make the political process work."