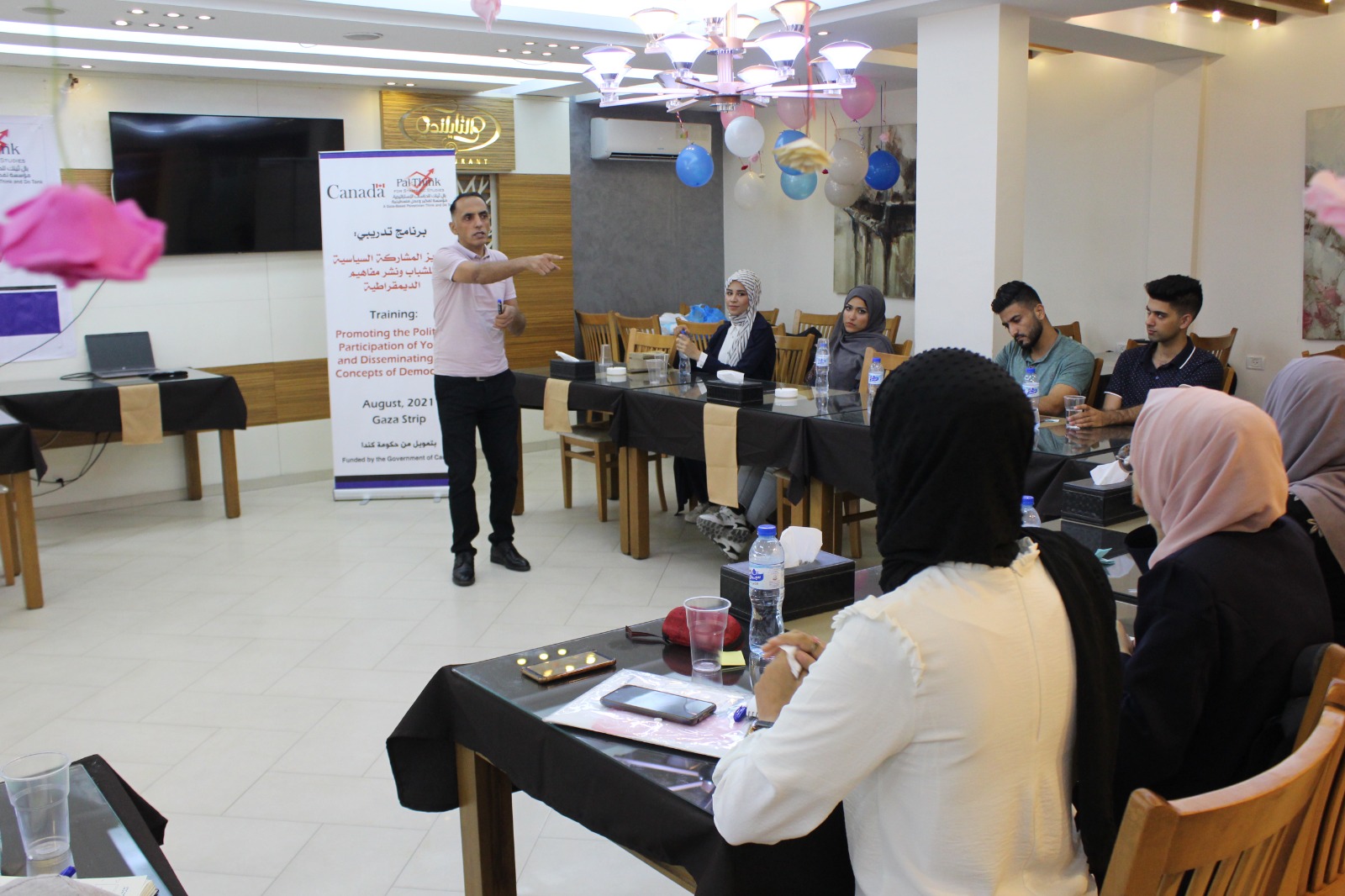 Within the efforts of Pal-Think for Strategic Studies in the field of disseminating the concepts of democracy and political participation in Palestinian society; developing and improving the knowledge and skills of Palestinian youth on issues of democracy and human rights. Pal-Think for Strategic Studies concluded a training program entitled "Promoting the Political Participation of Youth and disseminating the Concepts of Democracy", which continued for seven training days, it targeted 22 young men and women with the participation of expert trainers.
This is part of the "Enhancing the Role of Civil Society in Supporting the Palestinian Elections" project, funded by the Government of Canada, which aims to enhance the role of civil society in supporting the Palestinian elections, activating the role of youth, and enhancing the political and societal participation of young people.
During the training, the focus was on topics and issues that contribute to developing youth skills and help them implement future project activities, which will include implementing awareness sessions targeting youth, implementing radio seminars, accountability sessions, dialogue meetings, and lobbying and advocacy campaigns. The trainees themselves will work to implement these activities.
On the first training day, the principles of human rights in international law and the most important characteristics of human rights, and the components of international legitimacy for human rights were discussed. On the second day, the focus was on the skills of using pressure and advocacy campaigns to participate in decision-making and how to use these campaigns to gain support in issues of political participation and human rights.  On the third day, the strategies of the national dialogue and the concepts of democracy were detailed through simulation sessions and a review of the experiences of neighboring countries at the level of the democratic dialogue. On the fourth training day, the importance of the political participation of youth and women in the Palestinian situation was discussed, and plans and programs were developed to enhance this participation. About the fifth and sixth training days, they were devoted to focusing on the skills of debate and listening sessions by allowing the trainees to choose the issues they deem important in the Palestinian cause, and then conduct a practical debate dealing with this issue. On the last training day, it was about presentation skills, to develop and enhance the trainees' skills in presentation and persuasion.
In turn, the trainee, Iman Khalil, spoke about the training, explaining, "This is the first time I receive training with this quality, because the information and skills we learned during the training is very useful to us, and after this training, I became more confident in myself and more able to speak in front of people, and the diversity in training topics was the biggest encouragement for me to gain culture, read and learn about these topics."
The trainee, Ahed Abdullah, added that "the training is distinguished by the diversity of the topics it presented, and it has a major role in developing skills and providing me with new information on issues of democracy and human rights."