Youth
Pal-Think trains youth to engage in direct political dialogue through a focus on "Hearing Sessions"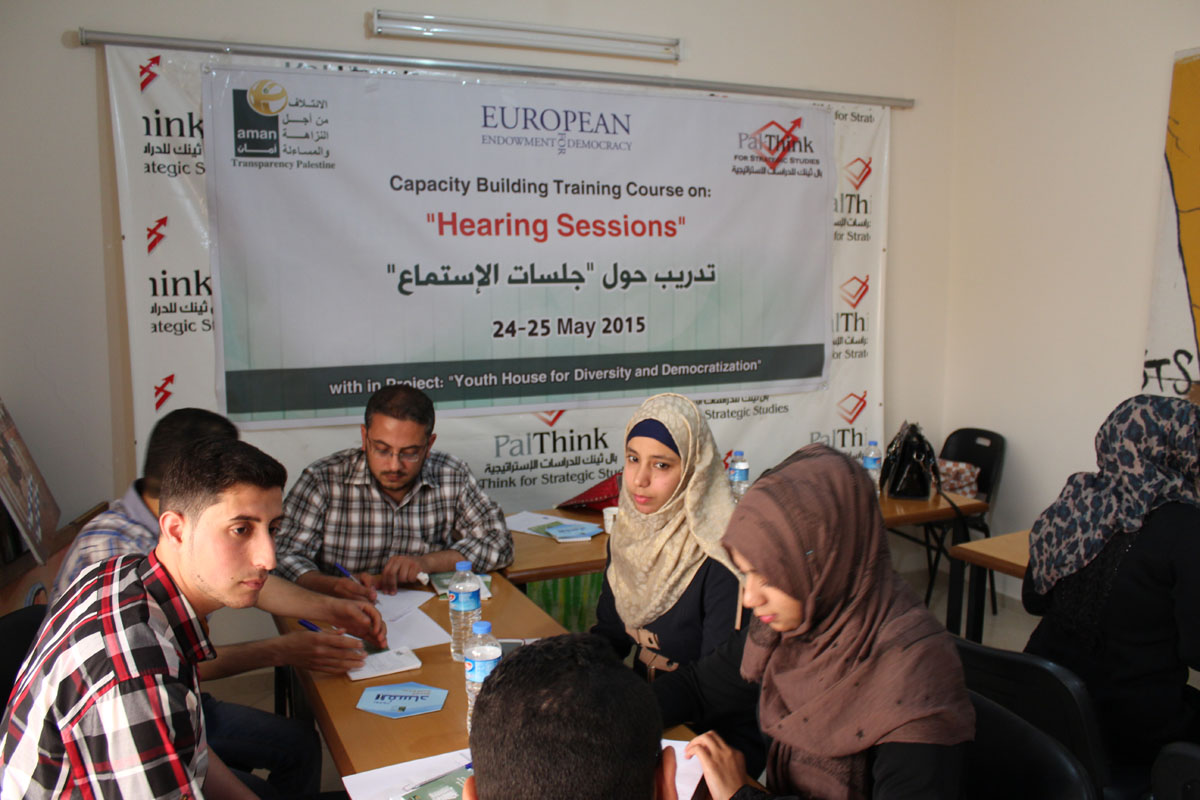 It is the experience of Pal-Think that the Palestinian youth is highly motivated to take civic- and political responsibility for the development of the Palestinian society but all too often they do not have the proper tools or methods to do so. While the Palestinian youth are some of the most educated in the region the lack of real life training and lack of jobs makes it difficult for the youth to apply their theoretical knowledge into real life. To accommodate this increasing need, Pal-Think has, within the last years, initiated many training sessions for the youth. The current initiative is a collaboration between Pal-Think and the Coalition for Integrity and Accountability, AMAN and was about the importance of hearing sessions in an inclusive policy making process.
Public hearing sessions and political question hours, as they are also called – is an important democratic tool to ensure transparency in policy making and to reinforce the importance of an active civil society when it comes to developing policies. Pal-Think for Strategic Studies, therefore recently launched a two-day training seminar for 25 young graduates from the social sciences to strengthen their ability to ask questions and actively engage in these kinds of hearing sessions. The training session which was delivered by Mr. Al Tourkmani, legal adviser of AMAN and research coordinator, focused on the importance of hearing sessions, as a democratic tool for ensuring accountability and transparency, different types of hearing sessions, the important steps for organizing such sessions, recommendations for the hearing session managers how to follow up on such sessions.
After the session many participants voiced an increased understanding of the importance of being able to hold policy makers accountable and how public hearing sessions can be a means for this. "We have been used to hearing about hearing sessions in the media, but I was ignorant of the concept of what is was. By this training session I have become more aware about the concept, characteristics of the person who is authorized to run the hearing sessions, how to collect references to get information necessary for the hearing session and how to be an important actors in the society, handling community issues of concern, presenting and discussing it via hearing sessions as well as how to move this training from learning into execution", said Baraa Shanty, a participating journalist in the session.
The recent two-day session was part of a series of training sessions, which are part of Youth House Program of Diversity and Democratization implemented by Pal-Think and in partnership with European Endowment of Democracy (EED).