Current Project
Programs
Youth
"One table, two universities" Pal-Think Concludes a Dialectic Workshop-Promoting National Dialogue Among Universities in Gaza and the WB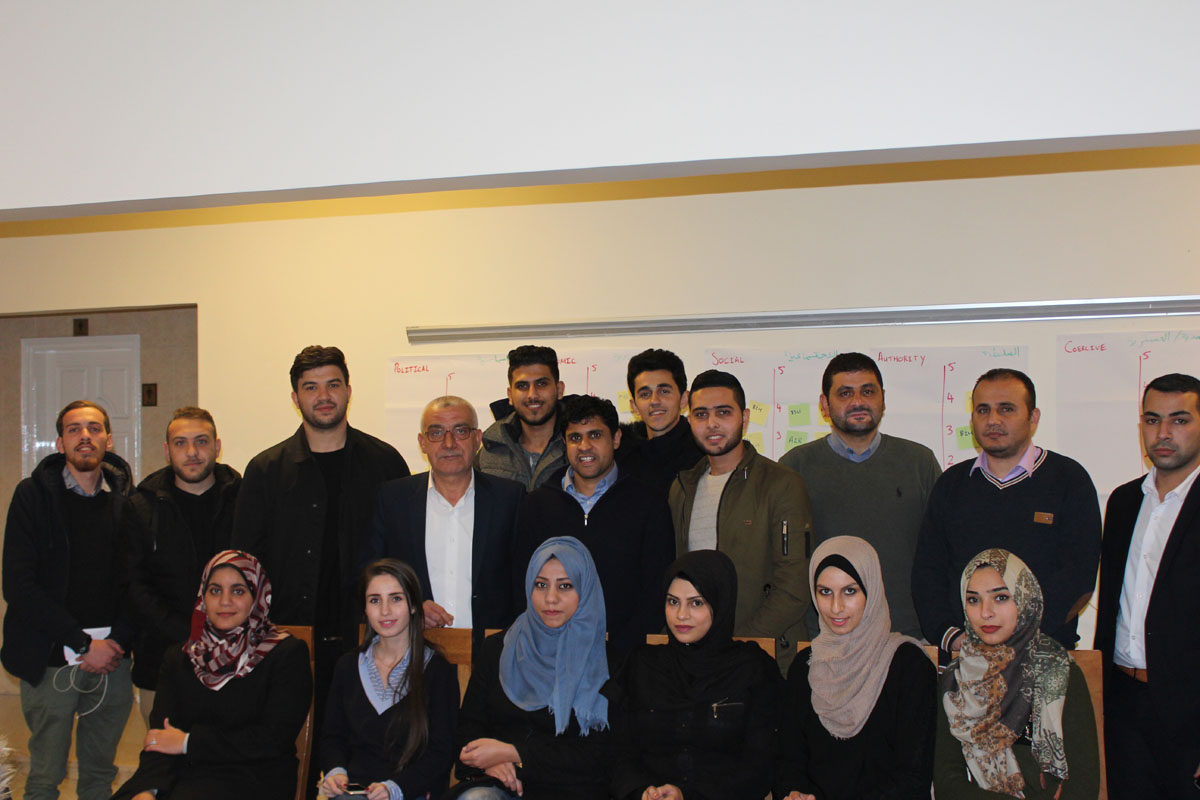 Marna House – Gaza – Saturday – Sunday 26-27 January 2019.
Pal-Think for Strategic Studies concluded a dialectic Workshop aimed at analyzing the relationship between Al-Azhar and Islamic Universities and the role of the two universities in promoting national dialogue in Palestine. The workshop is part of a cooperative project among Pal-Think, Swiss-Peace, and the Palestinian universities entitled as "Promoting national dialogue with and through universities and CSOs in Palestine."
The Workshop targeted 20 participants from the Islamic University and Al-Azhar University. Mr. Omar Shaban introduced the session and noted that Pal-Think is an independent think and do tank, which works on core issues that are relevant to the Palestinian people lives and interests, Pal-Think has been serving the Palestinian cause for more than decade, in a multitude of areas including: Youth and Women empowerment, supporting reconciliation, research and policy papers, conflict resolution, civil peace and non-violence in Palestine and the MENA region.
Besides, Shaban emphasized that "We should carry out more and more endeavors of national dialogue between change makers and intellectuals of our society, change is a process of systematic actions, open-discussion and dialogue are essential and should be performed repeatedly, in order to promote a culture of tolerance, openness, and acceptance of the other. All these help in breaking the ice and collaboration on common interests to serve the Palestinian cause under one united umbrella."
The trainer is Mr. Zahed Yousuf, a dynamic professional with over 15 years of experience designing, managing, and implementing peacebuilding and development programmes. Mr. Yousuf is also the founder of Dialectiq.org, which is is an innovative platform that helps organizations make sense of complex relationships and develop politically smart agile programmes.
There was a consensus among participants that a deep understanding and analysis of the relationship among stakeholders is the key to be able to make a change in the different areas including social, economic, and political, especially that relationships are complex and intertwined in conflict areas.
Participants worked on analyzing the past and current relationship between Al-Azhar University and Islamic University concerning collaboration in promoting national dialogue in Palestine. The analysis addressed the relationship between the two universities from different angles including communication, common and conflicting interests, common and conflicting values, and finally the legal framework in both universities.
Moreover, the analysis considered breaking down the types of power that each university has in terms of promoting national dialogue: political, economic, social, legal, and coercive powers. Then, an analysis of the attitude and willingness of two universities to contribute to fostering the Palestinian national dialogue. Ultimately, the analysis shows that the relationship between the two universities is unfavorable in terms of cooperation in promoting Palestinian national dialogue.
Last but not least, the stakeholder's analysis was performed to show people/institutions with the power and authority to influence the national dialogue between the two universities, as a result making a positive change in Palestine.