New releases
Session on "Death Penalty and Extrajudicial Execution", targeting the Youth in Gaza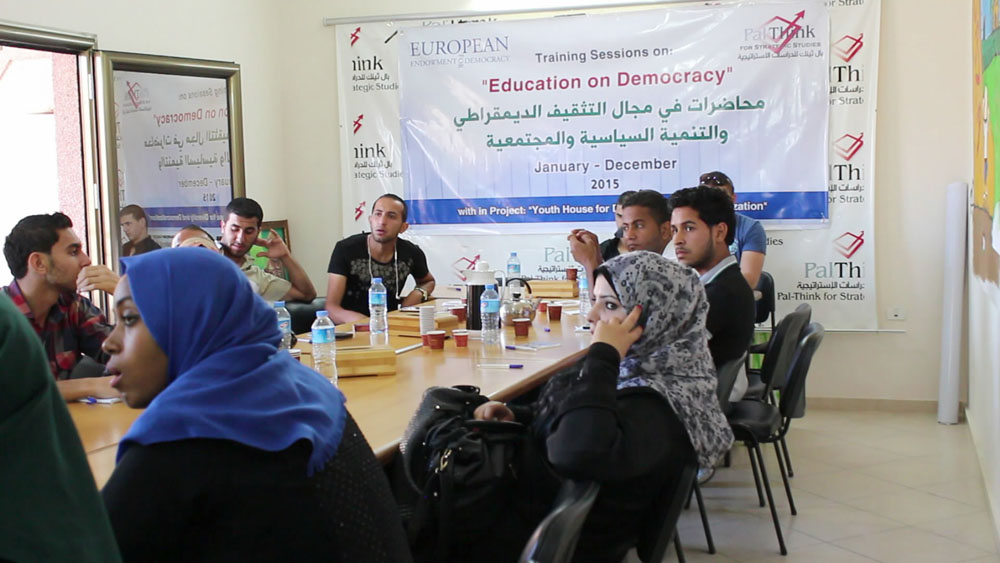 The session, which took place Wednesday the 10th of June, was facilitated by Pal-Think in cooperation with the Palestinian Center for Human Rights. It focused on creating awareness on issues related to the death penalty and extrajudicial executions. The focus was primarily on the legal side of the issues, so the session concentrated on the role of the three authorities: the legislative, judicial and the executive, in the enactment of laws on the death penalty. The session also reviewed the Palestinian reality with regard to the execution of the death penalty, and to what extent it meets the international conventions and Palestinian law.
The session addressed issues of implementation of the extrajudicial executions on charges of spying and its security and legal consequences for society. The session reviewed the human rights organizations that call for abolition of the death penalty, and ending the phenomenon of extrajudicial execution and the Palestinian calls for the President of the Palestinian Authority to sign the Second Optional Protocol to the International Covenant on Civil and Political Rights, aiming at the abolition of the death penalty.
The session was arranged as part of the programme to establish a Youth House of Diversity and Democratization in Gaza, supported by the European Endowment for Democracy (EED), from which to engage the youth in civic and political questions related to the Palestinian society. In continuation of the session, participants voiced appreciation of the initiative and an increased knowledge on the subject: "Through the session we realized that our awareness on the death penalty is very little, almost non-exist, we have found significant discrepancies between what is dominant about who deserves death penalty, and the legal requirements to implement it. The session was rich in new information, and we hope to attend similar sessions", said Fatema Abu Maeleq, a student who attended the session.