New releases
Pal-Think and the Friedrich Ebert Stiftung host Conference on European stance towards Palestine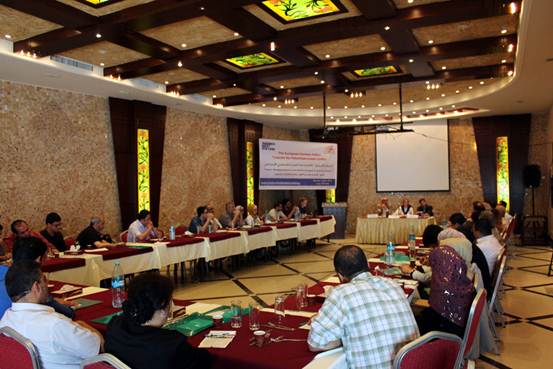 On June 8th Pal-Think hosted a conference on European policies towards the Palestinian-Israeli conflict in collaboration with the Friedrich Ebert Stiftung. Keynote speaker, Dr. Muriel Asseburg from the German Institute for International and Security Affairs was invited to speak about German and European policies and stances in the current conflict in Palestine. 60 participants, which included representatives from political parties in Palestine, local researchers and business representatives as well as activists and members from the Palestinian youth, were gathered to engage in dialogue with Dr. Muriel Asseburg about how to affect the political leaders of Europe to make the conflict an increasingly important priority on the EU's agenda. While Dr. Muriel Asseburg made evident that the internal division in Palestine is one of the main obstacles for European engagement in Gaza and for a strong Palestinian position, it was clear that also internally within the EU there are divisions and disagreements about which stance to take in the conflict – making it relevant to ask which internal division is in fact responsible for the lack of European recognition– the Palestinian or the European.
The session was rounded of up by a range of questions and comments from the participants who where especially interested to know about the current discourse among the European parties and the civil society. Dr. Muriel Asseburg made the interesting point that while there is clearly an increased criticism of Israel in European public opinion, this does not necessarily equal increased support for the Palestinians, but rather leads people to argue in favour of European disengagement from the conflict. On the other hand, she gave concrete examples on how the newly elected EU High Representative Federica Mogherini as well as other new strong voices within the EU has shown signs of an increased interest to focus on a resolution of the conflict. Pal-Thinks Director, Omar Shaban meet with Federica Mogherini just a couple of weeks ago to discuss this issue.
Some concluding thoughts of the conference was the importance of the involvement of the European civil society. This motivates Pal-Think to continue its work to seek for international partners to increase its outreach, and to further engage the Palestinian civil society to take action and responsibility for the betterment of the Palestinian people in Gaza.
Pal-Think was happy to host this successful conference in collaboration with the Friedrich Ebert Stiftung and many thanks should be given to Dr. Muriel Asseburg for her kind contributions and participation at the conference.