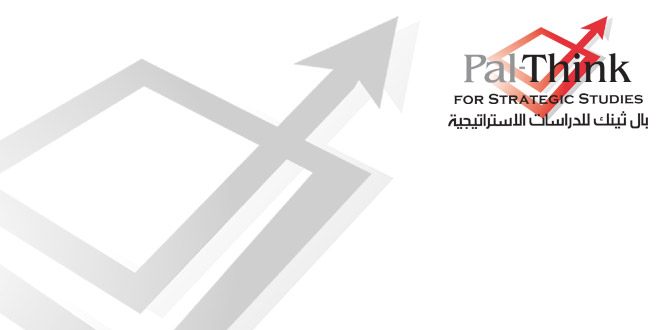 This open letter was drafted by Palthink for Strategic Studies and was signed by 52 Palestinian civil society organization
An Open Letter to the International Community from Palestinian civil society
Members of the International Community who have supported the Palestinian struggle for autonomy and self-determination now hold the key to the reunification of Palestine and the national healing process engaged with the formation in 2014 of a Palestinian Consensus Government.
Responding to civil society demands and rejecting the "West Bank First" approach advocated by some, the Palestinian Consensus Government (PCG) reversed an earlier decision to host municipal elections only in the West Bank Territories. Saying, "Our objective is to build unity and promote stability and prosperity for all Palestinians", the government decreed that municipal elections would be held on Saturday October 8, 2016 for all 416 Palestinian municipal councils in Gaza and in the West Bank.
With the formation in 2014 of the Palestinian Consensus Government and recognition of Palestinian state sovereignty by the United Nations General Assembly in September of 2015, the process of reconstruction for Palestinian civil society and national reconciliation is well underway. The next step will be to elect and empower municipal governments.
It has been 10 years since the divisive events of 2006 which led to the suspension of the democracy. Thus, it will be the first opportunity in 10 years for young people to vote in a democratic process and in realizing on of their basic right.
The 2016 municipal elections are a fundamental first step toward rebuilding Palestine's institutions which will improve fundamentally the humanitarian and developmental services for the people of Palestine   and we request the support and understanding of our friends and longtime partners. If this is a first step in empowering a new generation of decision makers, it is also a necessary step in reconstituting the Palestinian Legislative Council and presidential  legislative forum for debating and reconciling national interests.
We call upon the international community to take a clear position in support of the municipal elections and to express its readiness to cooperate with elected municipal authorities. Municipal authorities are the first provider of services to the Palestinian people and municipal empowerment is absolutely essential to improving humanitarian and developmental services to the Palestinian people. It is also a matter of validating the Western narrative in support of democracy for Palestine.
Signatories:
| | | |
| --- | --- | --- |
| # | Name | Institution / Organization |
| 1. | Iyad Abu Hjayer | The Palestinian Center for Democracy and Conflict Resolution -PCDCR |
| 2. | Wafa Abo Gosh | Palestinian Planning Center – PLO |
| 3. | Muhsin Abo Ramadan | Dr. Haider Abdel Shafi Center for Culture and Development – HCCD |
| 4. | ACAD | Arab Center for Agricultural Development |
| 5. | Dr. Ayed Yaghi | Palestinian Medical Relief Society (PMRS) |
| 6. | HASSAN H WALLI | GENRAL DIRECTOR OF IDPs League |
| 7. | Hassan Abdo | Political researcher |
| 8. | Aladdin Salama | Al Khaledin Charity  Association |
| 9. | Yousri Darwish | General Union of Cultural Centers |
| 10. | Bahjat Alhelou | Independent Commission for Human Rights |
| 11. | Eng. Imad Falougi | Adam center for dialogue of civilizations |
| 12. | Sawsan Yousef | Palestinian working woman society for development |
| 13. | Nahed R. Eid | Effects for consultation and development |
| 14. | Aref Jaffal | Arab World Democracy & Electoral Monitor (AL Marsad) |
| 15. | Omar Shaban | Palthink for Strategic Studies |
| 16. | Talal Abu Rokbeh | Ramallah Center for Human Rights Studies |
| 17. | Osama Mortaga | Palestinian national association for youth (PNAY) |
| 18. | Ali AbuShahla | AA Consulting Engineers |
| 19. | Mohamed Hijazi | Writer & Political research |
| 20. | Ashraf Okeh | Freedom  forum  Palestine |
| 21. | Maher Issa | CIVITAS Institute |
| 22. | Aya Sleem | Graduates Department  – Ummah University |
| 23. | Hosam abo naser | Alquds Home |
| 24. | Saeed Jalal Shaat | Fateh Youth Organisation |
| 25. | Raid M. Helles | Researcher and writer on economic affairs |
| 26. | ABEDALKARIM ALMADHOUN | University of Palestine |
| 27. | Wafaa Abed Alrahman | Filastiniyat |
| 28. | Nadim Qandil | REFORM |
| 29. | Mohamed Al Nahawi | Local Association For Social Services‎ |
| 30. | Hanan Siam | Palestinian Family Development Association |
| 31. | Dr. Ibrahem Moammer | National Society for Democracy and Law |
| 32. | Mazen Hamada | AlAzhar University Gaza |
| 33. | Dr. Kamal Kuddih | Ghad Moshreq Association |
| 34. | Hegazi M. Karashalli | Adviser |
| 35. | Dr. Nahed Zaqout | Abdullah Hourani Center for Studies and Documentation |
| 36. | CWLRC | Center for Women's Legal Researches and Consulting |
| 37. | Saed Al Agad | Political researcher |
| 38. | Sami Albreem | Psychology |
| 39. | Saleh Anbar | Translator |
| 40. | Mahmoud Ghazal | Journalist |
| 41. | Hani Shehada | Journalist |
| 42. | Hussain Hjammad | Human Rights Activist |
| 43. | Mohammed A. Alfarra | PalThink for Strategic Studies |
| 44. | Ranin Ziara | PalThink for Strategic Studies |
| 45. | IDS | Institute for development studies |
| 46. | Mohammed Dawoud | Al-Aqsa University |
| 47. | Mousa Rimawi | Palestinian Center for Development and Media Freedoms-MADA |
| 48. | Hatem Abu Taha | United Cultural and Social Society |
| 49. | Mohammed Shaat | University of Palestine |
| 50. | Ihsan  Almasri | PalThink for Strategic Studies |
| 51. | Mohammed  Al Tatari | NGO |
| 52. | Salma Elzaneen | Family Development Association |