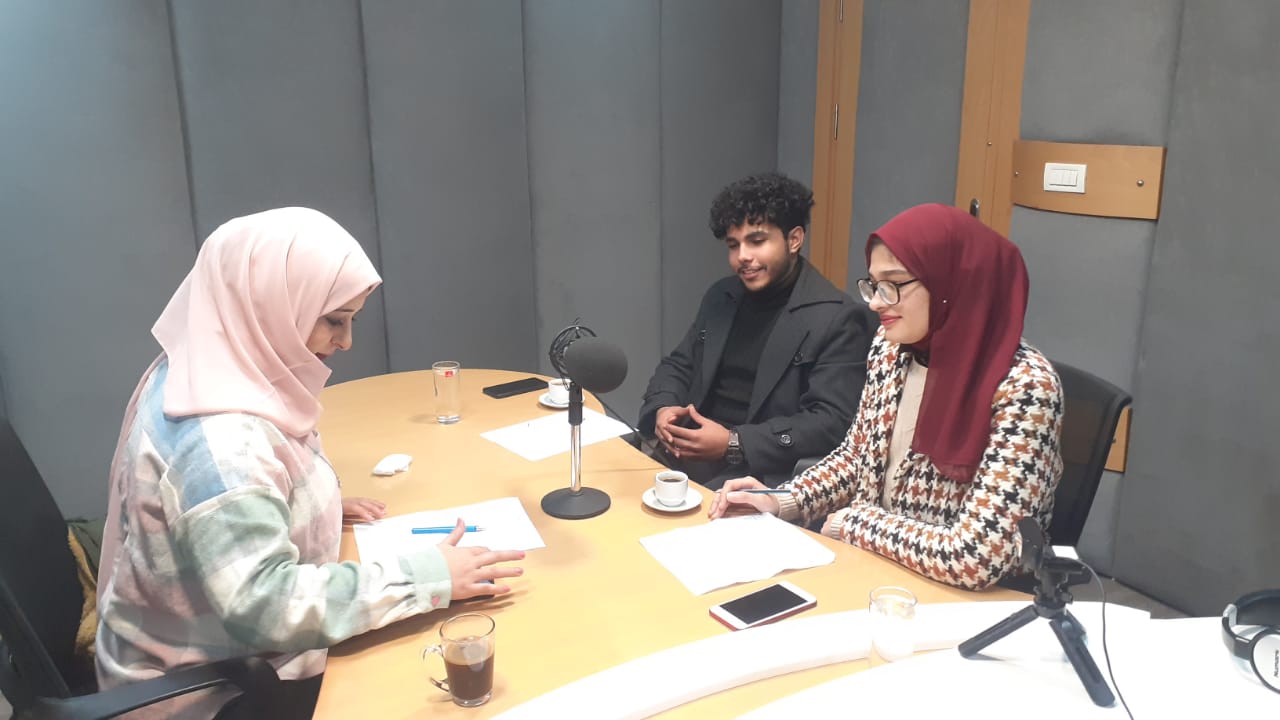 Pal-Think for Strategic Studies implemented the sixth and final episode of "Democracy and Youth" radio program that broadcast via Zmn FM on Mondays and Wednesdays, as part of the project "Empowering Civil Society Role to Achieve Palestinian Elections " funded by the Government of Canada.
It was entitled "Democracy and Youth" with the participation of the young activists' lawyers: Zainab Al-Azar and Ameer Hassanen as well as the researcher in political science: Dr Yahya Qa'od.
Mr Hassanen began by defining democracy, its origins and its practices by people and Governments. He also referred to the forms of direct and indirect democracy, mentioned international examples of such forms, and how monarchies and the democratic republic apply and define the functions of such systems required for democratization.
He continued saying that election is an important indicator of democracy including student council elections that Palestinian students had not practiced, that had resulted in permanent problems at universities. He also emphasized the importance of youth awareness of the rule of law and the Palestinian Constitution.
In addition, Ms Zainab talked about the right to elections and the electoral law which established the general framework for elections, the eligibility of candidates, who elect and the timeframe for the electoral process. She also explained the difference between the general presidential, legislative and local elections and elaborated on the specific characteristics of each type, as well as the stages and conditions of the electoral process.
In his intervention, Dr Yahya Qa'od highlighted the importance of youth participation in bringing up these issues. He added that there is no democracy without elections, the society had the right to choose its own representatives in both the Legislative Council and the presidential office, and the age of candidacy should be reduced and amend the law regarding that.
Dr Qa'od talked also about the factors to be taken into account for implementing elections. He spotlighted on the youth who have not practiced election for a decade and a half at all levels even student council, association or union elections roles. And here comes the functions of think tanks, studies and civil society organizations in raising awareness about this and the need to expand access for all youth who represent 22% of Palestinian society. Because of the lack of their participation in elections, there has been a gap in practicing democracy.
He also mentioned the electoral system and the Palestinian Constitution, which provided for elections to be held every 4 years, while 15 years ago no elections had been held. That demonstrated the long-absent of practicing democracy and increased ignorance of the electoral process by the younger generation.
The designations employed and the representation of material in these meetings do not imply the expression of any opinion whatsoever on the part of the Government of Canada."