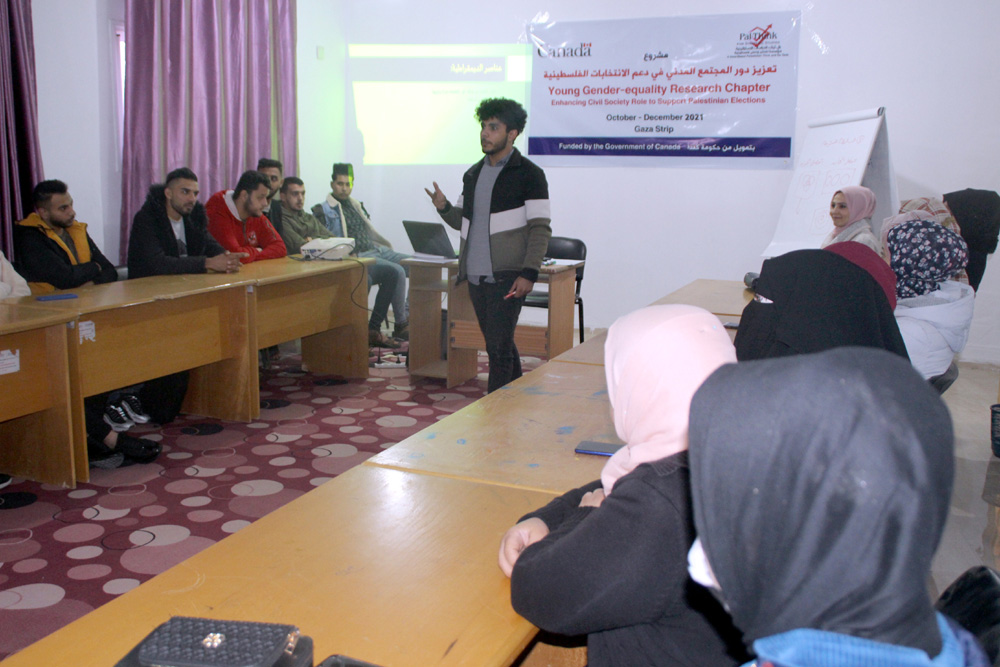 Pal-Think continues implementing awareness-raising sessions on democracy and human rights issues targeting society's different groups specially youth. This comes as part of the project "Empowering Civil Society Role to Achieve Palestinian Elections" implemented by Pal-Think, funded by the Government of Canada. These sessions were conducted in cooperation with partners in all the governorates of the Gaza Strip targeting a group of university graduates. The meetings covered a number of topics, the most important of which are: "Personal Status and Family Protection Law" in cooperation with Alsahel Association for Development, the session began with a discussion on family violence and its social reality especially after the prevalence of many violent crimes in Palestinian families where women and children have been the victims. There was a discussion on the basic human rights law which includes guarantees for family protection and penalties for criminals. The audience also discussed the family protection law, the draft violence protection law and the procedures followed.
The next session was in cooperation with Alnajada Charity Association entitled: "Civil Society Organizations Role in Promoting Youth Political Participation" It mentioned the importance of adopting programs that promote youth political participation and means to address the gap between these organizations and youth. The session also discussed the needed means to promote a culture of youth political participation and the importance of involving them in initiatives and voluntary work that promotes their belonging and citizenship and encourages them to take these organizations as platforms to expressing their opinions.
Regarding the session entitled: "Human Rights and Youth Political Participation", it was carried out in cooperation with Elmanal Association for the Rural Women Development discussing the concept and characteristics of human rights and present the international conventions that support human rights. It also highlighted the right to political participation, its forms and its locally and internationally legal framework.
Another session was carried out at the Society for the Care of Disabled Families entitled "Democracy and the Right to Vote." It mainly discussed the concept of democracy, its elements and forms including free elections. It also addressed the separation of powers and equality in law and the importance of an independent judiciary to monitor the functioning of the democratic system in society. It mentioned the main obstacles to democratization too.
It's worth noting that these sessions were conducted by a group of youth graduates of the training program: "Promoting youth political participation and disseminating the concepts of democracy". That was carried out by Pal-Think to train youth to be activists who are able to transmit information and contribute in raising awareness on democracy and human rights issues.
The designations employed and the representation of material in these meetings do not imply the expression of any opinion whatsoever on the part of the Government of Canada."