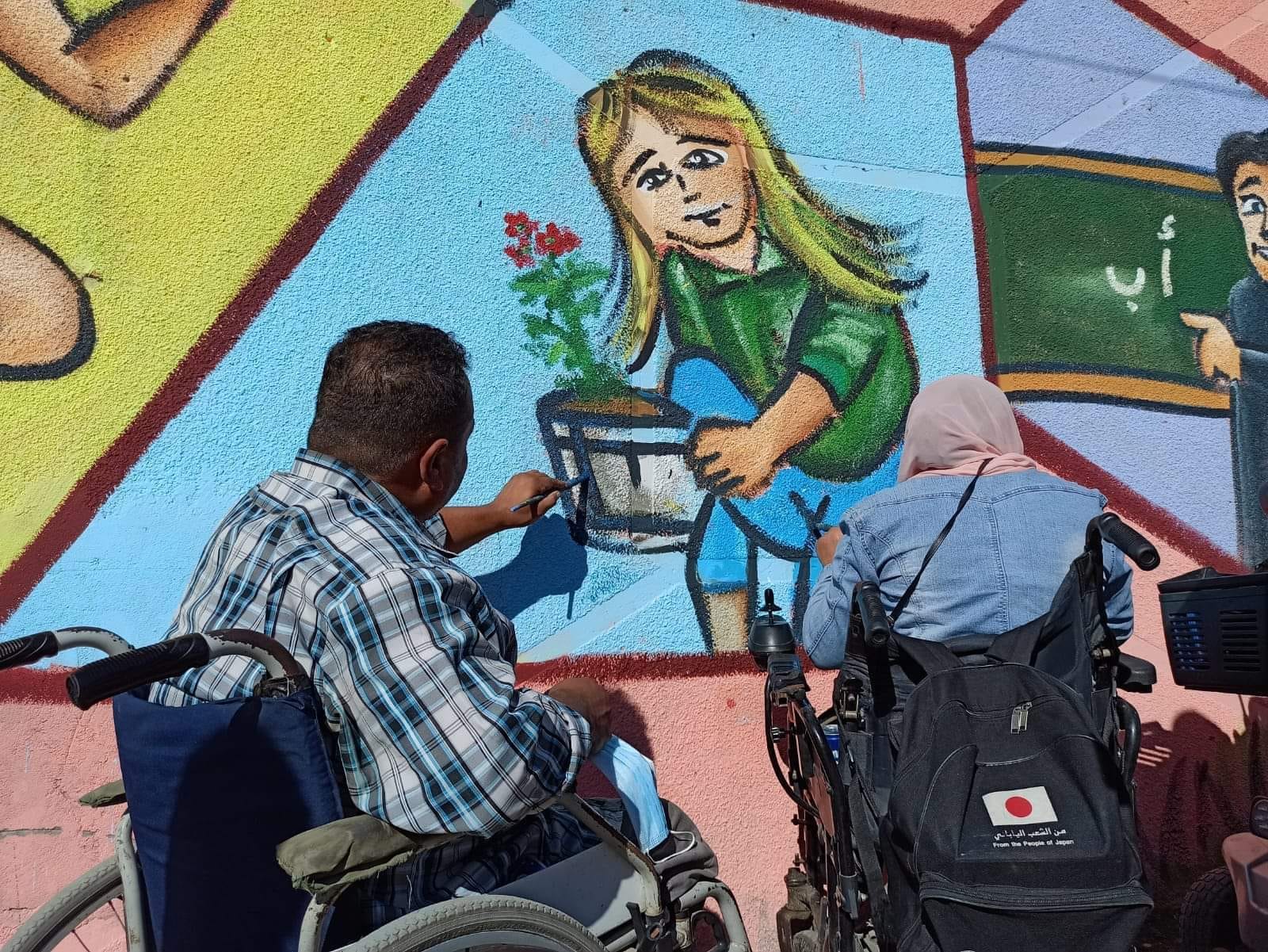 Alasdiqaa Association for people of Special Needs concluded an initiative "Our Country is beautiful with its Youth" in partnership with Pal-Think for Strategic Studies and FXB, within the project "Plant Seeds of Hope in Gaza Youth and Children". This was in the presence of: Mahmoud Abumor, the executive director of the association, and Mr. Sammy Barhom, the programs manager, Eng. Muhannad Moammar, the director of health and environment service of the municipality in Rafah, Eng. Hazem Barhom, director of the municipal control and monitoring service, and a group of dignitaries, mukhtars ("heads"), representatives of civil society institutions, initiative team, association members with disabilities and their relatives, representatives of clubs and ministries.
Mr. Sammy Barhom stated that organizing this meeting was part of the initiative. It aimed at restoring hope for youth with disabilities and other society groups and enhancing their self-confidence especially in the context of the psychological and social conditions they are experiencing after the recent Israeli aggression and the health conditions caused by the Corona pandemic.
He confirmed that the initiative seeks to promote the values of tolerance and non-violence in the Palestinian society. Also, it focuses on the empowerment of youth and the promotion of their positive energy especially those with disabilities and females.
Ala Hamad, an initiative team member, confirmed that she is very pleased with her participation in the initiative which gave her the opportunity to express her thoughts as well as her colleagues with disabilities. Through which they advocated the integration of persons with disabilities and give her the opportunity for active participation in society. Mr. Abdul Qadir Abu Lubbda, an initiative team member, also reported that the idea of the initiative stemmed from the ideas of young people with disabilities in Rafah. That represented an advanced model of full participation alongside other community groups, since this initiative gave them the opportunity to express their thoughts and reflect their aspirations for full equality. The activities of the initiative included a large mural drawing on "The notion of integration and empowerment of youth with disabilities and females". It's worth noting that the implementation of the initiative coincides with the 16 Day Campaign against violence against Women and international day of persons with disabilities as well as the campaign to clean up and afforestation the eastern entrance to downtown of Rafah Governorate.