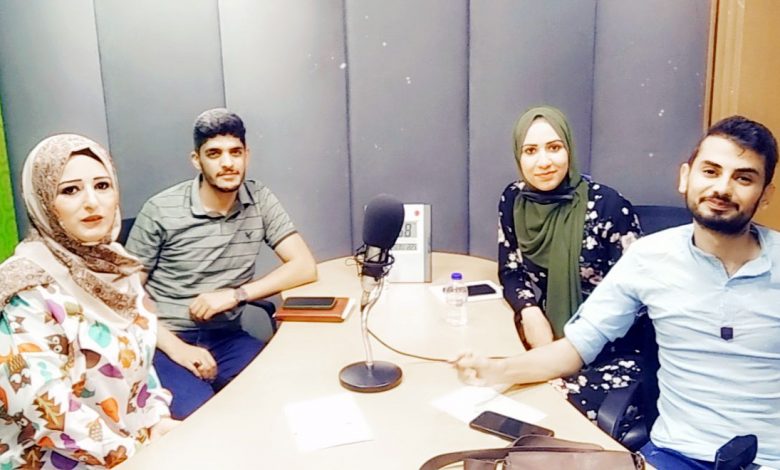 "What is the role of Palestinian youth in speeding up the electoral process? "Is the title of the broadcast which is carried out by Pal-Think for strategic studies on Zaman Radio, during the weekly radio programme" Dialogue with Youth, "which airs every Sunday, during which Youssef Salim, coordinator of the Legal Aid Unit of the Palestinian Bar Association, and members of Pal-Think's Civic Education Board  Mr Osama Naim and Ms Soha Sukar.
It is worth noting that this comes as a part of the project "Civic Education," implemented by Pal-Think Organization of Strategic Studies, funded by the National Endowment for Democracy (NED), which aims to promote democratic values and human rights among university students.
Ms Sukar began by talking about how she was joining Civic Education, as she and her colleagues were selected under objective conditions and after their successful interviews. She then mentioned some of the intensive training they had received in "Pal-Think" on gender, human rights, governance, political science and others.
She also  said: "As young people, we were concerned with the hope of elections and were closely following the process of individual candidacy."
Ms Sukar also talked about the issue of women's cottage and said that Palestinians struggled to have a women's cot in the Legislative Council in 1996 even though the Palestinian people did not accept the idea of being represented by a woman at the time. Therefore, the participation of women in the Council was only 5%. Furthermore, Palestine has signed the CEDAW Convention, which rejects discrimination between men and women.
The member of  Civic Education, Ms Soha,  stressed that Palestinian youth were qualified, educated and capable of change. And said: "From my point of view, if we had a youth movement at the moment, we would have achieved something, we'd have had a lot of experience. Age itself is not a problem. Then she further confirmed that if they as young people, focused on the media to deliver their voice and believes, there will be a glimmer of hope that reality will change to be better and able to achieve democracy in Palestine.
In turn, Osama Naim, a member of the board, pointed out that the aim of the civic education project was to educate university youth at a time when elections were supposed to be held.
He said that Pal-Think gave hope to young people to express their opinion on this process, which is an achievement because it provided a platform for young people.  He also added that they received training and knowledge from experts from several fields and passed it on to others. He further pointed out that they stressed the need to accept dissenting views at a time when a youth environment in the Gaza Strip was absent to express their political views because of internal conflict and censorship.
On the participation of young people in electoral lists, Naim noted that they felt so frustrated as many people when they saw the formation of electoral lists, there was no real representation of young people to express their aspirations. Not to mention that youth were also frustrated since they wanted any change to the painful reality which is imposed on them for  15 years, which was like dying so slowly and painfully. He stated: " As a young man, I was optimistic, so we were surprised to postpone the election hours before the campaign began."
For his part, Yusuf Salim, coordinator of the Legal Aid Unit of the Palestinian Bar Association, noted that the Palestinian law has entered a phase of lawlessness or illegality.
Salem continued that with regard to the legal situation, they would say that the decisions of the Chairman, being Chairman of the Palestine Liberation Organization, and the Head of State of Palestine, are by law in force under the exceptional situation we are in. The Legislative Council of Gaza imposes laws and passes them for enforcement through the executive.
The lawyer also said that the process of getting young people on electoral lists was something more delusional and he himself experienced the political polarization of young people. But to say that young people 24 years old cannot enter the Legislative Council is a consequence of saying that the leaders of the Palestinian revolution started their activity during their university studies.
He continued, another example is the young Palestinians who spoke to Western media about the question of Palestine and the issue of the displacement of Palestinians. Because he developed Palestinian narrative in international media, and there are other examples to show how capable the Palestinian youth are.