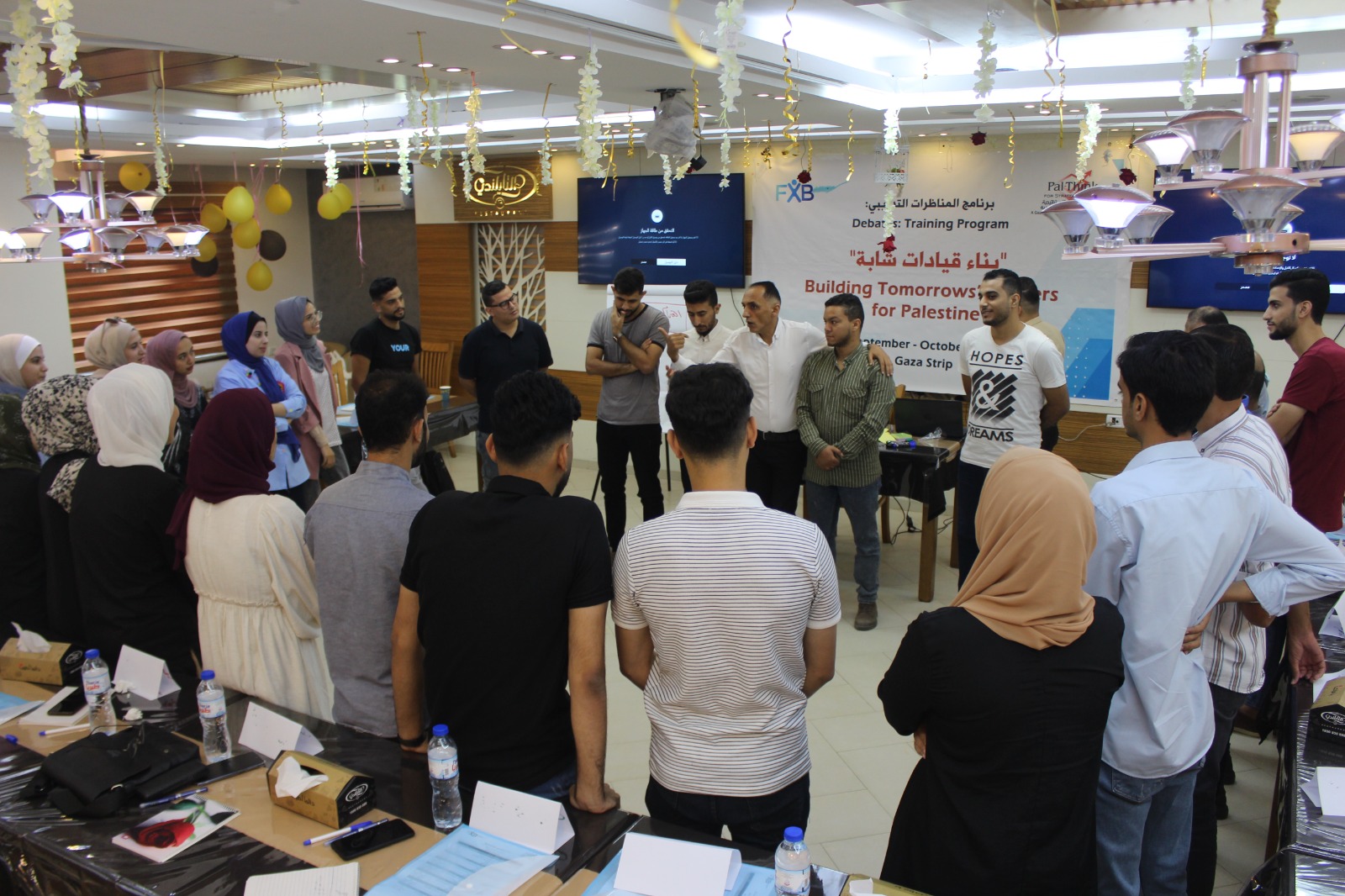 As part of its efforts to promote dialogue and rational discourse among youth, PalThink for Strategic Studies has launched the "Preparing Young Leaders" training program, targeting 55 young trainees, in partnership with FXB, within the project" Building tomorrow's leaders for Palestine"
PalThink's Projects Coordinator, Sally Al-Sammak, opened the first training session by welcoming the attendees. "This program aims to enhance the participants' debating, life, and creative thinking skills to enable them to participate in the decision-making process," she said.
"Out of 250 applicants, we selected 55 according to announced competence and criteria," she said.
Al-Sammak said that "the trainees will organize and participate in 20 debates in several universities and local institutions which would enhance their communication and coordination skills."
PalThink's director, Omar Shaban, said that his foundation aims, through these training programs, to produce a young generation of community leaders, armed with critical thinking skills and acceptance of others.
"We are one of the best-known institutions in the Middle East that dedicates all its resources to training young people on soft skills, critical thinking, and research writing.
"We are proud that many former PalThink workers are now in important and influential positions in local and international institutions, while others were granted Scholarships to study master's and doctoral studies at the world's most prestigious universities.
"PalThink maintains a good connection with its trainees after the training programs end, by involving them in workshops and political conferences and encouraging them to write research papers."
For his part, trainer Talal Abu Rukba said: "Most of Gaza's youth lack the culture of dialogue and reject the other due to the rise of intolerance and hate speech in light of the political division.
"This training came to instill a culture of peaceful dialogue among young people through debate which teaches them to build their discourse on logical arguments and refute the arguments of others."
On the first day of the training, the trainees were introduced to the themes and scientific foundations of debates. They also watched several videos of scientific debates and carried out group exercises in an atmosphere of positivity and teamwork.
Trainee Shahd Ismail Abu Dahrouj, 23, a psychology graduate, said: "As soon as my colleagues told me about the announcement of the capacity development training, I did not hesitate to register for this training with enthusiasm and passion, especially since my colleagues who received previous training told me a lot about skills and knowledge gained through their involvement in community activities."
"I also joined because I am eager to learn debate skills, methods of searching for information, documenting and presenting it, and various means of persuasion," she said.
For his part, trainee Abdullah Al-Baba, 23 years old and a medical equipment engineering graduate said, "I saw graduates of previous PalThink debate program training other youth on debating skills. I want to acquire these skills and become an activist like them and pass these skills and knowledge to others,".
"I want to learn to accept and debate with people who have different opinions because this is necessary for my personal and professional life, and even in my relationship with my family," he said.