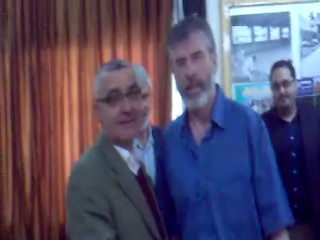 During his visit to Gaza Jerry Adams, president of Sinn Fein, the largest Catholic party in Northern Ireland expressed his delight in being in Gaza to support the Palestinian people, Adams said "The people of Gaza deserve to live life in safety and harmony, and Israel should be well aware that the people of Gaza have rights such as the people of Israel.
"He also stressed on the need for Israel to break the siege imposed on the people of the sector, and the opening of the crossings and allow all goods to enter, and to facilitate the travel of patients, and expressed shock at the magnitude of the devastation left by the Israeli war on the sector. These words came during his meeting with President of Pal Think for Strategic Studies Mr. Omar Shaban and an elite group of the civil society. Shaban praised the role of the Irish experience in achieving national reconciliation, which came upon the pass of 11 years on achieving the Irish reconciliation on the same day of the meeting.
Shaban summarized the events of reconciliation between Fatah and Hamas, the effects of the embargo, the recent war in Gaza and the Palestinian economy especially in the Gaza Strip, the agony of the Palestinian citizen, the volume of economic losses and the need to activate the role of the economy in the sector, especially in the current period, and the role of Pal Think in the attempts to bridge the gap between the two groups through national reconciliation initiatives and the formation of special committees to follow up the controversial issues between the two groups.
Shaban also stressed on the need to help the sector in building a strong Palestinian economy and put pressure on Israel to open crossings and lift the siege on the Gaza Strip.