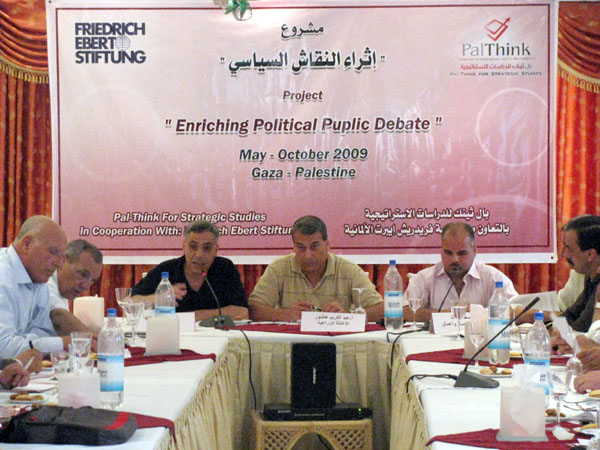 On June 25, 2009,A discussion meeting was held at the Grand Palace Hotel in Gaza city, organized by Pal Think for strategic studies in cooperation with the Friedrich Ebert Foundation within ''enriching political public debate'' Project .The meeting was attended by Mr. Omar Shaban, president of pal think, Dr.Osama Antar, Friedrich Ebert's programs officer in Gaza Strip. And a number of economists,
politicians and intellectuals. The discussion meeting tackled two core issues through presenting two working papers. The first paper entitled "The new Israeli government …Is there any chance to peace agreement" by Mr. Tayseer Muheisen, a development researcher, indicated that the current Israeli government is the biggest one in Israeli history; and the possible fall of the government will be for internal reasons not foreign policy.
The second working paper, entitled "The effectiveness of the International Aid to the PA" by economic advisor Mr. Yousif Shaath, noted that the funding channels are limited to the national authority and non governmental organizations; in addition he stated that the international aid has led to strengthening the orientation of the Palestinian  people towards peace and democratic coexistence.
In closing, Mr. Omar Shaban, president of pal think, stated in his speech ''that there is a real challenge facing the Palestinian people if they remain divided without a vision we must reach reconciliation'', he added that Pal Think will organize a series of workshops to address other issues of interest to the Palestinian community and region.