Culture and Knowledge
Fourth Session of Face the Public; The Executive Manager of Electricity Company, Stated: "The Electricity Issue should be Totally Neutralized from the Conflict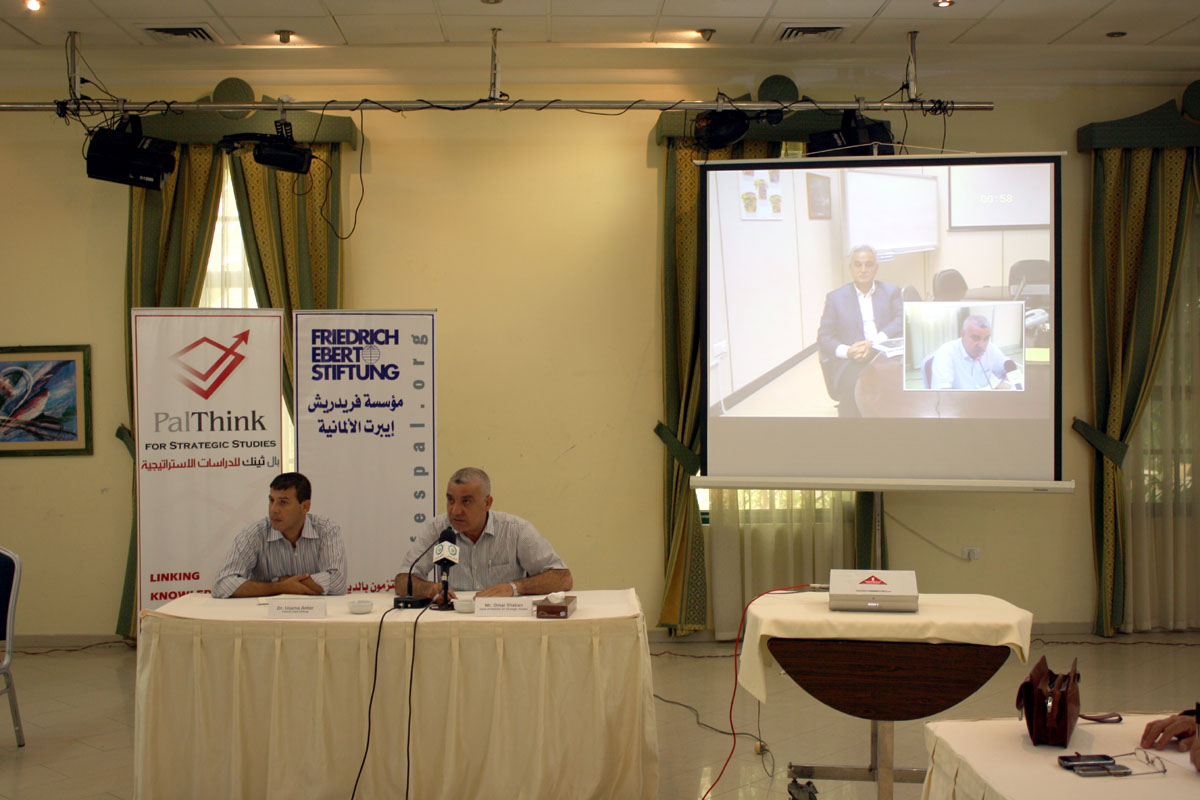 Gaza – Monday – 23 August 2010
A session, was conducting with the electricity crisis in Gaza, was organized by Pal think yesterday, and hosting Mr. waleed salman the executive manager of electricity company.
This session comes in the frame of "toward diversified, democratic, institutionalized, political system in Palestine" project, in partnership with the German friderich ebert association, and with the presence of a number of parties, NGO representatives, and Gazan business men.
The session started by Mr. Omar shaban who welcomed the attendees, and indicated to the importance of such sessions in Gazan civil working.
Also Mr. Osama Antar clarified the average of power shut down hours in Gaza, referring that the average number of power shut down hours is about 10 hours daily.
However the main speaker of the session Mr. waleed salman  from Abu Dhabi through the video conference, gave the attendees a brief introduction about the history of electricity company, referring to the main partners in it.
And also Mr. waleed salman  clarified that the national Palestinian authority used to get huge contracts from Israel to guarantee huge amounts of petrol, with the cheapest costs to the generating station, and also manifested that the current pattern of utilizing the generating station with the lowest possible amount of fuel will cause a permanent damages in the station itself.
Where Mr. waleed salman  also suggested a solution of this crisis, which is replacing the used petrol, with whether gazan or Egyptian gas to reduce the overall costs.
And finally he ordered Hamas to pay the petrol bells to Israel immediately, and also ordered Arabian parties to intervene, and end the current crisis.
After Mr. waleed salman  ended his word, the attendees had the opportunity to discuss, where Dr. Eyad El Saraj started by manifesting how severe the current crisis is since the European grant was declared to be suspended.
Moreover Dr. Eyad El Saraj indicated to the importance of launching a campaign to create public awareness about the necessity of paying electricity bells among the gazans.
Where the next speaker was Mr. Abdulakareem Ashour who cover more than one aspect, such cost prices, neutralizing the services from the Palestinian fratricide conflict, the economical obstacles, and finally indicated to the importance of having a sovereign state to accomplish any permanent infrastructure projects.
Finally Mr. Suhail Skaik the head of electricity distribution company, stated a number of suggested solutions, to handle the current crisis in Gaza such:
• Enhancing the national culture of paying the service bells.
• A dedicated police patrols to protect the company's employees.
• Installing prepaid counters, but with power shut down those counter may get out of function.
At the end of the session the attendees expressed their gratefulness for such open minded sessions, where the national priorities are discussed objectively.
This session comes in the general frame of "Face the public series" that is organized by Pal Think, to create a better civil society.